Boris Johnson craves his own drone for personal deliveries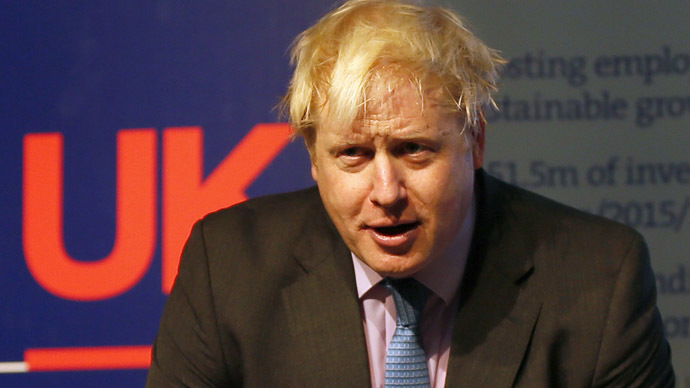 London Mayor Boris Johnson wants a personal drone to deliver his online shopping. Delivery drones flying across the capital's skies would offer a solution to congestion on London's streets, he said.
"I want my own personal drone to come and drop it wherever I choose," Johnson told tech startups.
He challenged developers and investors to invent a solution to congestion caused by the increasing numbers of parcel delivery vans.
"We have a problem, folks – all this internet shopping is leading to a massive increase in white van traffic dropping this stuff off," he said at a FinTech launch in Singapore during his six-day tour of south-east Asia.
"That's going to be terrible for congestion in our city and doubtless the same will be true of Singapore as well.
"I look out at this brilliant audience here today, bulging with ideas, and I ask you possibly to solve it. We need a solution […] Is it, as I hope, going to be drones? I want to be controlling an app that enables my shopping not only to be click and collect."
Innovative apps were presented at the Singapore event, including Vieweet, which allows a shopper to browse a store online by virtually walking down aisles and looking at products on the shelves.
Large international companies are currently testing drone-deliveries of goods, especially to remote areas.
READ MORE:Amazon to test same-day UK delivery drones
In early November, Amazon revealed its drone-based delivery service testing plans in the UK.
The online retail giant announced it would test delivery drones in Cambridge. It plans to incorporate delivery drones as part of Amazon's Prime Air to fly parcels to customers within 30 minutes of the order being placed.
In the UK, almost 360 companies have applied to use drones commercially by October 21, according to the Civil Aviation Authority.
READ MORE:Drone developers: High-tech UAV & robotics lab to launch in London
This summer, Google presented its own drone-based delivery service, using a fixed-wing aircraft to deliver packages including chocolate bars, dog treats and cattle vaccines to farmers in the Australian outback.
The service will also use an autonomous quadcopter to deliver small parcels to an island off the German coast. Deliveries will include medication and other goods that may be "urgently needed."
Drones fly under 50 meters to avoid entering regulated air traffic corridors.