East London brothers jailed for attending terror training camp in Syria
Published time: 27 Nov, 2014 11:58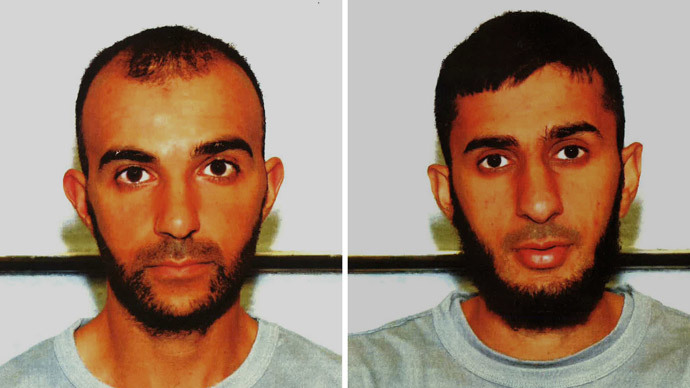 Two brothers have been jailed for a total of almost eight years for going to a terrorist training camp in Syria, in what is being described by police as a 'landmark case' and the first in a long line of related terrorism cases to come to court.
Mohommod Nawaz and Hamza Nawaz from Stratford, East London were sentenced to 4.5 and three years, respectively.
The court heard that members of the brothers' family contacted police last August when the pair went missing.
They had said they were going out for a meal in nearby Walthamstow, but in fact had gone to France where they took a flight from Lyon to Turkey and crossed the border into Syria.
In one video, the men are seen at a river crossing on the Syrian border, where they are asked "Here for Jihad?" One of them replies, "Jihad, yeah."
Once at the training camp, the men took 19 photos and videos, which were found by police. One of them is a picture of their timetable, which included a strict regime beginning at 4:30 a.m., with prayers and Islamic lessons, followed by two hours of physical training. There was also military training twice a day before bedtime, at 10:00 p.m.
Other evidence used against them included a message sent on Whatsapp by Hamza Nawaz telling his other brother Hussain where he was.
"We've left to come to Syria. We know everyone will be angry with what we have done but it's something we wanted to do. I will be in touch soon," said the message.
The men returned to the UK in September, after being away for just a few weeks. They were picked up by border guards in Dover who found the incriminating videos and photos, as well as ammunition for AK-47 rifles.
Detectives believe the men planned to go on to a more hardcore training camp. It is not clear why they returned home so soon.
"It's landmark case with many other in the pipeline for sentencing. We have two brothers from east London who have travelled to Syria and engaged in and received terrorist training while there was out there and then returned to the UK. This is a significant sentence for us," Detective Chief Superintendant Commander Terri Nicholson of the Metropolitan Police's Counter-Terrorism Command said, as quoted by the BBC.
One of the brothers has already been in significant trouble with the law. The Old Bailey heard that Mohommod Nawaz was jailed in 2009 for six years and banned from traveling outside the UK for blackmail, false imprisonment, kidnap, and wounding.