British military charity to sue far-right group for copyright breach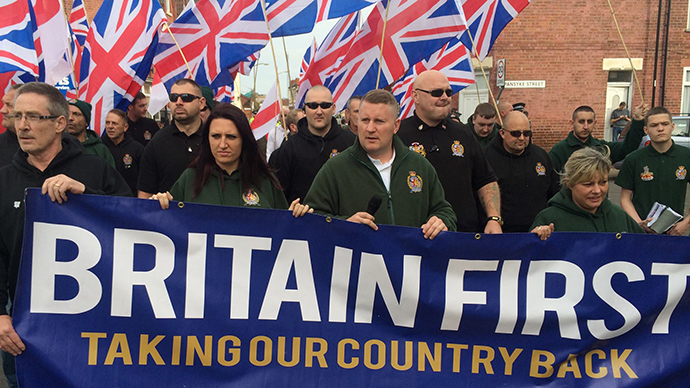 The far-right group Britain First, known for its "invasions" of mosques in English cities, may be sued by a military charity for using the image of the red poppy on its campaign material.
The poppy, which is associated with the UK's annual Remembrance Day to symbolize British military casualties, is a trademark owned by the nation's official military charity, the Royal British Legion (RBL).
While the RBL has owned the trademark since 1997, Britain First used the symbol in a number of branding campaigns on its website and various social media pages.
READ MORE:Britain First leader resigns over 'unchristian' mosque invasions
The group has been accused by politicians and activists of 'politicizing' the poppy in order to promote its brand of far-right extremism, and potentially diverting funds away from the RBL to carry out its charitable work.
Speaking to the magazine World Trademark Review, a spokesperson for the RBL said it would pursue legal action after Britain First reneged on its promise not to brand its merchandise or promotional material with the poppy.
"We contacted Britain First about their misuse of the red poppy symbol and received a response in October stating that this would cease. The activity has continued and the Legion will be taking further action," the spokesperson said.
"It is unacceptable for the red poppy to be used for political, partisan, sectarian or commercial purposes. The Royal British Legion is strictly non-political and the poppy is a symbol of remembrance and hope, which is a registered trademark of The Royal British Legion used for supporting our Armed Forces community."

READ MORE:MP condemns 'Christian patrols' in London's East End
To date, Britain First has more than 580,000 'likes' on its Facebook page, making it more popular than all mainstream political parties combined. According to experts in trademark law, the scope of Britain First's fan base makes it a valuable platform for commercial exploitation.
In the weeks leading up to Remembrance Day on November 11, Britain First was accused of 'hijacking' the poppy by creating images of the symbol, alongside phrases including "take our country back" and slogans urging its supporters to reclaim "national sovereignty"