MP condemns 'Christian patrols' in London's East End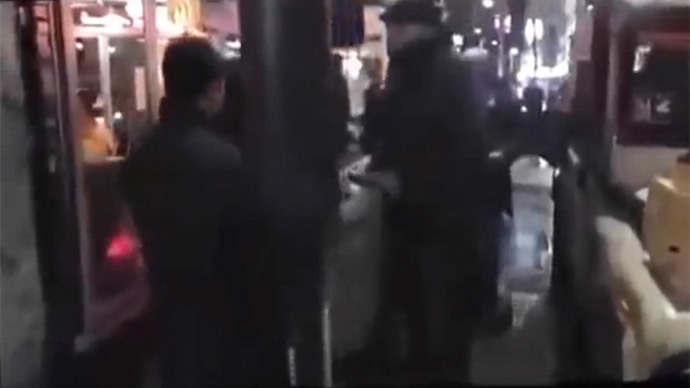 "Christian patrols," organized by a far-right party in response to so-called "Muslim patrols," have put the local community and authorities on high alert in east London, with a local MP speaking out against political and religious vigilantes.
Jim Fitzpatrick, the Labour MP for Poplar and Limehouse, made his comments after a joint statement earlier in the week by the local mayor, community religious leaders and the police.
"I think that the prospect of vigilantism, whether it be Muslim patrols or Christian patrols, is horrid," Fitzpatrick said. "I want to see police patrols on our streets, not individuals with a religious or ideological axe to grind."
The far-right Britain First Party drove armored ex-Gulf War Army Land Rovers down the largely Muslim street of Brick Lane in Tower Hamlets on January31, and handed out leaflets to passersby.
The ultranationalists told Asian men living in the area, the site of famous protests by the left against Oswald Mosley's British Fascist Union blackshirts in the 1930s: "This is our country. You want to live here, you adhere by our laws."
A YouTube video was posted online showing footage of the patrol and the chairman of the Britain First Party, Paul Golding (a senior former British National Party councilor), admitted to using cans of lager as "bait" to draw Muslims out of the nearby East London Mosque.
The video also shows Golding and other Britain First Party members unfurling a banner outside the mosque, proclaiming: "We are the British… Resistance."
The video ends with the message: "The day Lee Rigby was murdered, thousands of patriots were born. The fight back has begun." Rigby was a British soldier who was killed and decapitated by two Muslim extremists in Woolwich, south London, in May 2013.
Golding also said that the "Christian Patrols" were a response to the so-called "Muslim Patrols" that took place in the same area in January 2013, when a small group of Muslim men warned couples not to hold hands and told people drinking alcohol that it was a Muslim area and they would face "hell fire."
Tower Hamlets Mayor Lutfur Rahman said earlier this week that there was no place for vigilantes on the streets of the East End.
"The East End has a long honorable tradition of opposing those who preach hatred and provoke community tension," he said.
A spokesperson for London's Metropolitan Police said they were taking the incident seriously and had stepped up patrols in the area.
"We will work with our partners in policing the diverse communities in Tower Hamlets to provide a safe environment for those who live, work and visit the borough," the spokesperson said.
Dilowar Khan, a spokesperson for the East London Mosque, also condemned both the Christian and Muslim patrols.
"Britain First's patrol does not represent Christians, just as al-Muhajiroun's patrols did not represent Muslims. Both are tiny, extreme groups, unwelcome in our community," he said.
Rev. Alan Green, chair of Tower Hamlets inter-faith forum, voiced a similar sentiment.
"Small groups of men from outside the borough, claiming to patrol on behalf of either Muslims or Christians, do not represent us and our not welcome here," he said.
Golding is currently on bail for the alleged harassment of radical Muslim preacher Anjem Choudray, who vocally backed Muslim Patrols and has said he wants to introduce Sharia law into Britain.
Three members of last year's Muslim Patrols were jailed at the Old Bailey last month for trying to enforce Sharia law on passersby.
You can share this story on social media: