'Get your own extremist husband and bring some thermals' – Jihadist bride's advice to UK 'sisters'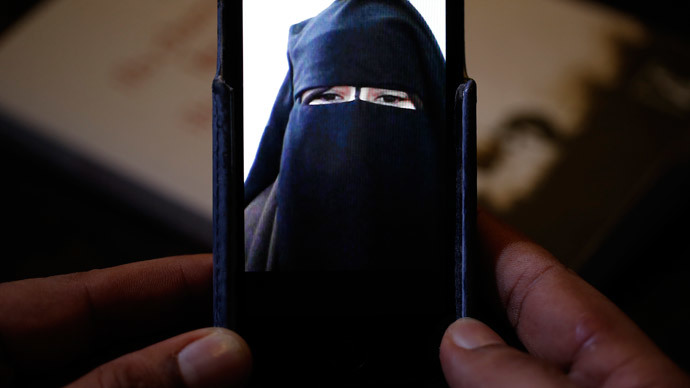 A British jihadist bride is warning her fellow "sisters" to have some "self-respect" and not be home wreckers who chase married ISIS fighters. She also advised they bring warm clothes for the harsh Syrian winters.
Aqsa Mahmood, 20, left her hometown of Glasgow and travelled to Syria after marrying a jihadist fighter in February.
Tweeting as umm layth, she told girls in the UK to get their own militant husband. She said: "Know the fact many brothers whom you contact and chat to are married. Have some self-respect and don't be a home wrecker."
Sharing wisdom with would-be militants back in the UK, who are planning to travel to Syria, she told them to "pack thermal clothing" because winters can be cold in Syria, or, as Mahmood put it, they're "too much" and worse than Scotland.
Bun Scotland, the winters here are too much. Sisters please dont forget to pack thermal clothing or you'll regret it later on.

— umm layth (@Muhajirah_) November 18, 2014
Aemar Anwar, the lawyer for Mahmood's family, told the Daily Mail: "The best advice they could offer Aqsa is to not to offer any advice to young Muslims to whom she is essentially offering a death sentence."
"It's an extremely painful (situation) of mixed emotions – of extreme anger that their daughter has shamed them and shamed the community of Scotland."
"She has joined a cult that murders and tortures innocents. Yet again she's out there tweeting, attempting to take other children from their families."
The lawyer added that what the former private schoolgirl now claims to do in the name of Islam is not according to the values that her family taught her.
READ MORE:British jihadi brides shame Muslim men into joining ISIS
On the 13th anniversary of the 9/11 attacks, Mahmood posted the third instalment of her online "Diary of a Muhajirah (immigrant)," in which she said she would only come home to raise the black flag of IS over Britain.
The radical said: "The only time we will ever, ever return to those lands beithnillah (if God wills) is to raise our flag."
Around 500 Britons are believed to have travelled abroad to fight for jihadist groups, including ISIS.
READ MORE:Missing Bristol girl feared to be heading for Syria to join ISIS - police
This comes as the UK's top counter-terrorism police officer admits British intelligence agencies have "more blind spots" when monitoring potential terrorist threats than five years ago.
Mark Rowley, Metropolitan Police Assistant Commissioner, told The Times: "We are less capable and have more blind spots than we had five years ago.
"Since the Snowden episode and with technology developments our intelligence picture is less good than it was – both domestic and international – and that makes operations harder to run."