Teenage jihad: 2 Austrian girls stopped en route to join ISIS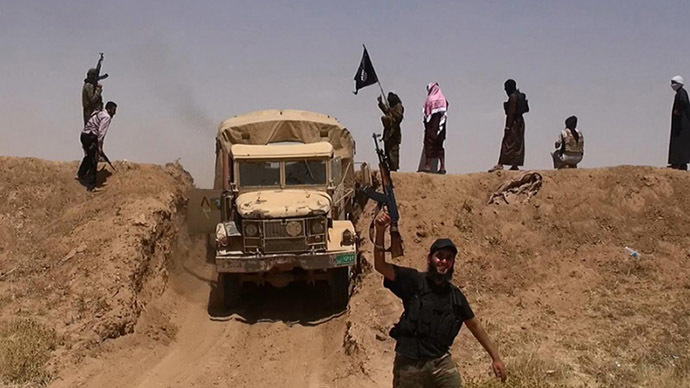 The Austrian authorities have stopped two schoolgirls who were willing to leave the country and join the jihadists in the Islamic State (IS, formerly ISIS). A third girl was planning to join them, but was stopped by her mother.
A 14-year-old girl and her friend, 15, both from Vienna, were earlier reported missing, said Interior Ministry official Alexander Marakovits.
The third girl, who is 17 years old, was planning to join them in Graz, the second-largest city in Austria. However, her mother became suspicious of the large suitcase she was taking and stopped her from going.
The elder girl's mother decided to call the local police on Saturday and they managed to track down her two friends.
The girls were reportedly born in Austria. The parents of the 15-year-old have Iraqi origins, but have lived in Austria for about 20 years. The younger girl reportedly comes from a foster home. It is still unclear how and why the girls decided to join the Islamic militants.
The teens told police that they didn't like Austria, reported Kronen Zeitung newspaper. They were planning to go to Syria or Iraq, said AP.
According to Marakovits, one of the girls comes from a Muslim family, while the other is a convert. Both are now wearing burqas.
"They are victims who have fallen in with the wrong circle of friends," he said, adding that the teens were "lured [to Syria] with false promises."
British rocker mom joins ISIS, vows to 'behead Christians with blunt knife'
The Interior Ministry didn't reveal what the girls planned to do there.
This is not the first case in Austria when citizens have attempted to join the Islamic State.
In April, two girls from Vienna, Samra Kesinovic, 16, and Sabina Selimovic, 15, disappeared from their homes.
The first hints of where the girls went were a number of social media posts claiming the girls had gone to fight a 'holy war'.
'Golden era of jihad': British student's video urges UK Muslims to join ISIS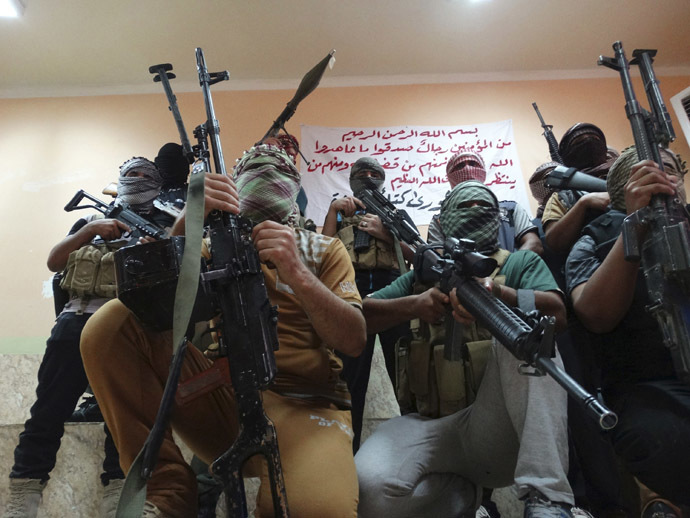 New photos on their Facebook pages showed them holding Kalashnikov automatic rifles, and in some cases surrounded by armed men. In their latest post, they said they were going to get married so they could become 'holy warriors', according to the Daily Mail.
In the meantime, the girls' parents said they don't believe the Facebook messages are being written by their daughters, but admitted they had recently started going to a local mosque run by a radical Imam, Ebu Tejma.
The girls come from Bosnian refugee families who settled in Austria after the war in the 1990s, but both were born in Austria.
British ISIS Jihadi vows to be first woman to behead UK or US prisoner
About 160 Austrian citizens are among hundreds of Europeans who joined the Islamic militants in Iraq and Syria.
According to the report in Der Standard newspaper, Vienna has become a hub for European jihadists who plan to join extremists at the 'holy war' in Syria.
"The conflict in Syria is attracting foreign fighters from all over Europe to Austria. The route to Syria is simple and safe," a report from Austria's Federal Agency for State Protection and Counter Terrorism (BAT) said, as reported by the Local.
The report said that Austria is now used as a place for recruiting jihadists from the EU who plan to travel through the Western Balkans to Syria.
The document adds that those radicals who return to Austria represent a particular threat for the country.
"After returning from the war zone with battle experience, having had traumatic experiences and associated behavioral changes, and having deepened their radical beliefs present a significant security risk for Austria," it says.
The number of Islamic State recruits is much higher than that estimated by foreign observers – around 100,000, says one of Iraq's foremost security experts with unique access to intelligence. The terrorists are swallowing up other insurgent groups. Foreign estimates put the figure between 20,000 and 50,000.
You can share this story on social media: