​Radioactive leak as fire strikes Scottish nuclear plant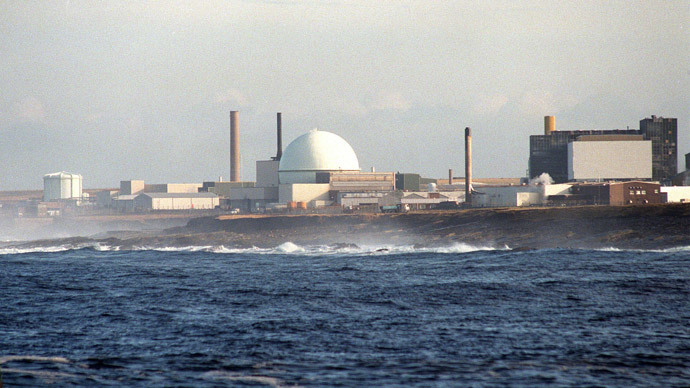 A fire at a Scottish nuclear power plant has caused the release of radioactive particles "via an unauthorized route." Site officials insist the leak poses no threat to the public.
The fire at Dounreay Site Restoration Limited (DSRL) began at 01:30 GMT on October 7. Fire services at the plant were able to extinguish the blaze within 30 minutes.
Subsequent monitoring of the fire, reportedly caused by "procedural non-compliances and behavioral practices" by staff, showed that low levels of radioactive particles has been released into the atmosphere as a result of the incident.
A DSRL statement said the trace amounts of leaked tritium did not pose a health risk to local members of the public.
The blaze started in the Prototype Fast Reactor (PFR), which houses four tanks that contain residual sodium from the reactors operations. Up until the accident, over 1,500 tons of waste sodium had been destroyed safely.
The DSRL is currently in the process of being decommissioned, and ceased to function as a producer of energy in 1994.
Managing Director of DSRL Mark Rouse said the site had been issued with an improvement notice by regulators of the nuclear industry.
He said "our investigation identified unacceptable behaviors and practices that fell well short of our values and standards."
A statement further claimed that "direct action has been taken to stabilize the situation and stop work in the tank farm area. It will not be re-started until the ONR are satisfied with DSRL's improvements."
READ MORE:UK wind farms outshine nuclear power output
The site has since dedicated a team to improve safety measures. They say they will "learn lessons" from this and other incidents and implement a wide-ranging strategy to ensure there are no further accidents.
Rouse said "it is important to take the time to ensure as many lessons are learned from this incident as possible.
"We are determined to improve our behaviors and compliance to ensure that we always meet the high standards expected on a nuclear site," he added.
The radioactive tritium is naturally found in the Earth's upper atmosphere, but can be produced artificially by nuclear explosions and civilian reactors.
DSRL has permission to release specified amounts of the chemical into the atmosphere.
The accident at DSRL occurred the same day as a fire aboard a ship transporting nuclear waste from Dounreay to Belgium.
You can share this story on social media: