Anti-NATO protesters begin 192-mile march on summit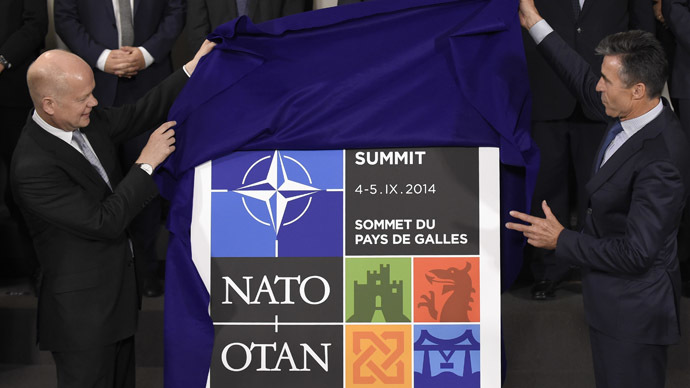 Peace activists have set out on a three-week 'Long March on Newport' to protest against September's NATO Summit. Police say they have drafted in 9,000 officers to face the protesters in one of the UK's biggest ever police operations.
More than 20,000 activists from around the world are expected to take part in demonstrations during the summit, where a week-long peace camp and a counter summit are among some of the events planned in what has been billed as Wales' largest protest in a generation.
Sixty world leaders from the 28-nation military bloc will meet at the Celtic Manor in Newport for the NATO summit on September 4 and 5. Previous NATO summits in Chicago and Strasbourg saw thousands protest war, austerity and global inequality.
In one of the UK's largest-ever policing deployments, 20km of security fencing is being erected around the venues.
"This is a UK-wide policing effort and I am confident that we will be able to deliver a safe summit, for delegates and the public," said Assistant Chief Constable Chris Armitt, who is leading the policing and security operation for the summit.
No NATO Newport is taking a 19-day route from the National Eisteddfod in Llanelli on Friday, arriving in Newport on August 29. The protest is inspired by the Newport Chartist Rising, a 19th century suffrage march where scores were killed while demanding the release of Chartists imprisoned in the town.
"Many of us are increasingly worried by the threat that NATO poses to world stability and peaceful relations," said the organizers.
"Since the end of the Cold War, NATO has reinvented itself supposedly as a tool of the 'international community' to safeguard 'freedom and security'.
"In reality it is a vehicle for US-led use of force in the interests of the rich and powerful, accelerating militarization, bypassing the United Nations and the system of international law, and escalating spending on arms," they added.
Activists argue that the money spent on arms could be better spent on hospitals, schools and services.
UK PM: We must use #NATOSummitUK to ensure #NATO is prepared to respond swiftly to any threat against any ally, including w/ little warning

— UK Delegation, NATO (@UKNATO) August 5, 2014
The protesters want to collect messages on postcards from members of the public along the way with the aim of delivering them on the first day of the summit during planned demonstrations outside the venue.
The No to NATO Newport umbrella group draws on the support of anti-war and anti-cuts activists working with the Stop the War Coalition, Campaign for Nuclear Disarmament and the Green Party.
You can share this story on social media: