US, UK military to stage NATO exercises in Ukraine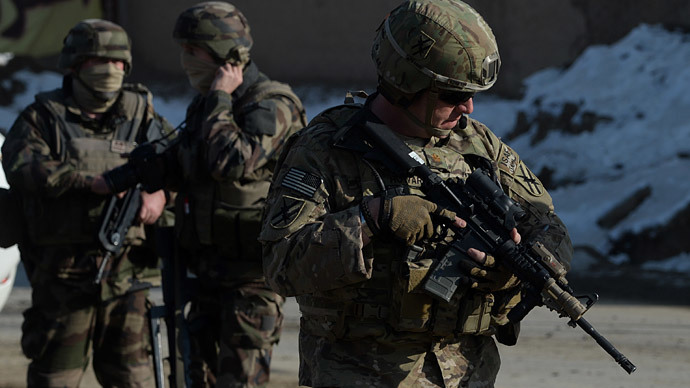 Ukraine will play host, but the US military will call the shots, in an upcoming military exercise called Rapid Trident that will bring together some 1,300 international forces in Ukraine for a long-planned exercise.
Although the United States canceled Atlas Vision 2014, which was scheduled to take place in July in the northeastern Russian city of Chelyabinsk, the Pentagon says it will go ahead with plans for a multinational military exercise this summer in Ukraine.

Rapid Trident 2014 is designed to "promote regional stability and security, strengthen partnership capacity and foster trust while improving interoperability between the land forces of Ukraine, and NATO and partner nations," according to the US forces in Europe website.

The Pentagon refused to provide information on the number of US forces expected to participate in the maneuvers.

US Army spokesman Col. Steven Warren said Rapid Trident is the only Ukraine military exercise the United States plans to participate in this year. The exercise is intended to help the Ukrainian military improve its troops and weapons operability with NATO forces.

Last year's Rapid Trident, which focused on "airborne and air-mobile infantry operations," according to a report on the Rapid Trident website, brought together 17 NATO countries for joint exercises.

According to Rapid Trident's Facebook page, last year's exercises involved "more than 800 pieces of weaponry and about 170 military and combat vehicles... In addition, 4 Mi -8 helicopters, a military transport aircraft An- 26 of the Armed Forces of Ukraine and a German transport aircraft C- 160 were involved to work out airborne operations and elements of evacuation of the wounded from the field of battle."

However, given the level of hysteria that has been generated by the Ukrainian crisis, Rapid Trident 2014 will take place under entirely different circumstances than last year's event.

The Pentagon has already dispatched 12 warplanes and hundreds of troops to Poland following the Crimean referendum on Sunday that witnessed an overwhelming majority of residents voting in favor of joining Russia.

Last week, the US military announced that the aircraft carrier USS George H.W. Bush and its group would remain in the Mediterranean Sea for a few more days than planned "to reassure US allies" over the Ukraine crisis.

On Tuesday, Russian President Vladimir Putin, together with the Prime Minister of Crimea and the mayor of Sevastopol, signed an agreement in Moscow for Crimea and Sevastopol to join the Russian Federation.

In addition to US and UK troops, Rapid Trident 2014 will include units from Armenia, Azerbaijan, Bulgaria, Canada, Georgia, Germany, Moldova, Poland, Romania and Ukraine.

Rapid Trident military exercises have been held annually on the territory of Ukraine for a number of years.

Ukraine has a partner relationship with NATO but is not officially a member.
You can share this story on social media: