Radioactive rewards: UK offers 'bribes' for areas to consider nuclear waste site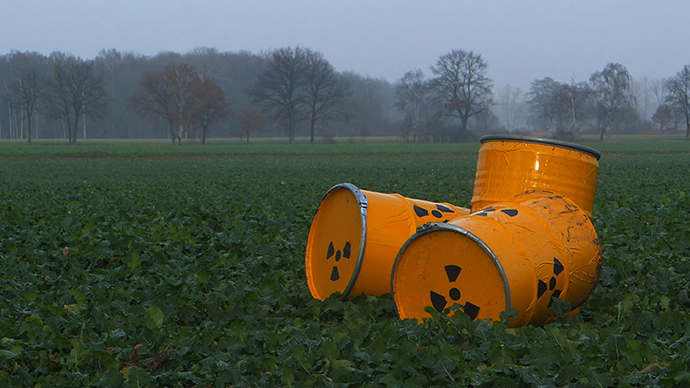 Millions of pounds could be paid to communities that consider burying the UK's nuclear waste in their area, the government has announced.
Payments of up to £1 million (US$1.6 million) a year could be doled out to localities that even contemplate accommodating an underground Geological Disposal Facility (GDF) to permanently store radioactive waste from nuclear power, industry, and defense. The UK's spent nuclear fuel is currently stored at radioactive sites across the country.
A "no strings attached" payment of £2.5 million ($4.2 million) a year would then be handed to those authorities who allow officials to drill boreholes into the earth as a means of judging the site's eligibility – a process which would take up to 20 years to complete.
Even if the community eventually rejects the £16 billion ($27 billion) nuclear waste facility, the locality could bank more than £40 million ($67.9 million) of government money.
The Department of Energy and Climate Change (DECC) says the taxpayer-funded facility would take 100 years to plan, construct, fill, and seal off, and argues that the deep burial of radioactive waste is the safest means of disposal.
The substantial cash incentive was introduced after leaders of Cumbria County Council voted against plans to install a site in the English northwest. With financial leverage, the government hopes to find a voluntary candidate region.
However, to avoid a repeat of the Cumbrian vote, the government insists that all levels of local government must have a voice in deciding on a site, so no single level can veto the project.
"Geological disposal provides the secure, long-term solution we need to deal with the radioactive waste we have been creating for more than 60 years," said Energy and Climate Change Secretary Ed Davey.
"Today we're setting out our plan to find a suitable site, based on a fundamental principle of listening to people, to make sure we have the right process in place. The area that eventually hosts a Geological Disposal Facility will benefit from significant investment in the community and hundreds of skilled jobs for decades to come," added Davey.
Commenting on the government's plans, Friends of the Earth's director of policy and campaigns, Craig Bennett, scorned the government's attempt to "bribe" communities.
"Nearly 60 years after the UK's first nuclear power station was switched on, we're still not even close to figuring out an adequate solution for the industry's legacy of toxic radioactive waste," said Bennett. "The fact that the government is having to offer bribes to communities to even talk to them about options, while making it clear they will override their views anyway, highlights that that this is a technology of the past, not the future."
Bennett went on to say the money could be better spent on green renewables and safer sources of energy.
"Successive UK governments have wasted immense amounts of money and political effort on nuclear power down the years. If even half of that had been put into safe, clean renewables and energy efficiency, we'd all be in a much better place," he said.
You can share this story on social media: