Victory sign: Deaf baby is first to register sign-language name on birth certificate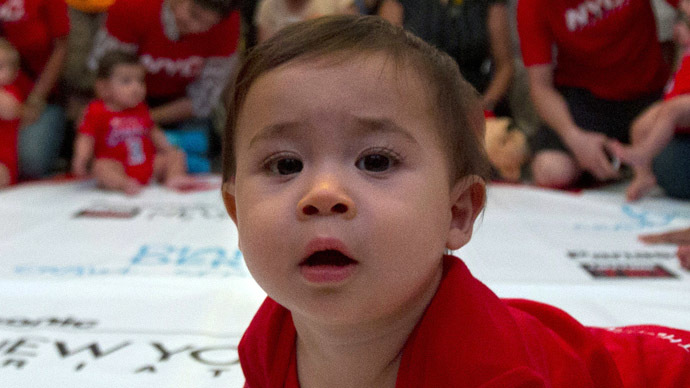 A deaf baby has become the first person to have their name officially recognized on their birth certificate in British Sign Language (BSL), following a nine-month legal campaign by her parents.
Hazel, who is known by the sign UbOtDDstarL to her family, won the right to have her sign name included on her birth certificate nearly four years ago, after her parents overturned the decision made by the Register Office to deny BSL on the official document.
Her parents, Paula Garfield and Tomato Lichy, said they wanted her BSL name on her birth certificate because there was no way to translate the sentiment into a written name.
"My daughter's sign name is what it is because her first expression was a smile," Garfield told the Daily Mail. "There's no way to translate it perfectly into English."
She said initially the Register Office had called their request "ridiculous."
"We went to the register office and they said it was 'ridiculous, you can't register a sign name, don't be silly.'"
Garfield said they spoke to a solicitor who insisted that the Register Office legally allows people to have their name on their birth certificate "in their own language." As BSL is a recognized language in the UK, the Register Office eventually reversed its decision.
The couple are no strangers to unusual name choices. Lichy changed his name from Tom to Tomato when he was 20, saying that he wanted a more "visual" and "strong" name.
In sign language, names are not just spelled using a sequence of letters, as they are in written English. Each name is comprised of a series of symbols which often relate to a particular characteristic to refer to each other within the deaf community.
A spokesperson for the British Deaf Association said, "When you come up with a sign name it's often as a result of a characteristic. Judging by the type of symbols in this name, the parents might have noticed Hazel smiles or laughs a lot."
They further said Hazel's name in BSL was not specific, but depended on "the context of the relationship with the child."
Garfield and Lichy are part of the Deaf community. The capitalized 'D' refers to the fact that is a lifestyle choice, as well as a physical state.
The couple have another daughter, called Molly, who is also deaf.
Their requests to put Molly's sign name on her birth certificate were also refused, but when the couple discovered they were having a second child, they became even more determined to succeed.
Garfield and Lichy "could not be happier" with their daughters. "We are the best possible parents for them," they said.