​'Democracy day': MPs call for election holidays to boost voter turnout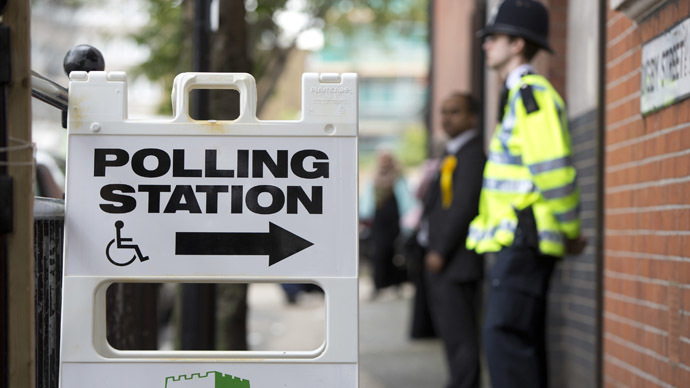 MPs have called for a "democracy day" holiday for the next general election in an attempt to curb voter apathy. Other proposals to battle the "crisis" of UK democracy include voting online and changing ballot day to a Saturday.
The ideas were circulated in a report by the Commons Political and Constitutional Reform Committee, which is aiming to boost voter turnout in the May 2015 general election.
Turnout at the 2010 general election was thought to be unacceptably low. A mere 65 percent voted in the previous election, with 16 million Britons opting to sit it out.
In a report published on Friday, MPs said "the idea of a 'democracy day' fits closely with our view that greater esteem and excitement should return to the electoral process."
"We recommend the government explore further proposals for weekend voting, extending voting and designating election days as public holidays," they added.
The committee further proposed a vote on whether to lower the voting age from 18 to 16, which would allow England to follow in the footsteps of both Scotland and Wales.
The report claims the committee has a "significant amount of evidence" to suggest lowering the age would substantially increase voter turnout.
"Extending the franchise to 16 and 17 year olds could have a positive impact not just on voter engagement for young people, but also on voter engagement overall in the medium to long term," they said.
The proposals accompany a statement from the committee's chairman, Labour MP Graham Allen, who claimed that Britain's democracy is facing a "crisis," pressing that "urgent action" was needed to make elections more accessible to the public.
"Turnout for the last general election was only 65 percent – almost 16 million voters chose not to participate – and millions of people are not even registered to vote. This is not an acceptable state of affairs for a modern democracy," he said.
"The fact that almost 85 percent of people turned out for the recent referendum on Scottish independence shows that people will turn out if they care about an issue and believe they can make a difference," Allen added.
David Babbs, Executive Director of campaign group 38 Degrees responded, saying while new measures may increase voter turnout, they fail to address one of the root causes of apathy: distrust of politicians.
Babbs further cited a recent poll in which 86 percent of 100 MPs believed they are trusted by their constituents to represent their needs in Parliament. By contrast, a separate survey of voters found only 24 percent trusted their MPs to do so.
"Compulsory voting won't restore the faith of a voter whose MP broke promises after the last election," Babbs said.
He said politicians needed to "look closer to home" if they wanted to get the public involved in politics.
This is what people in #RochesterandStrood said they cared about most when asked pic.twitter.com/e32nYIsWRp

— 38 Degrees (@38_degrees) November 13, 2014
"The report is right to suggest that if you want to tackle the collapse of trust in politics, you also need to tackle the root causes, like corporate lobbying, or party funding," Babbs added.
The suggestions come as Labour leader Ed Miliband was found to be the least popular party leader in history.
A survey published by Ipsos Mori on Wednesday found only 13 percent of voters believe Miliband could successfully lead the country.
The leader of the Opposition's position has been further undermined by figures in his own party, with "depressed" Labour MPs fearing he will lead them to a defeat in the next general election.