Brits ditch vegetables, believe pasta and cereal are healthy diet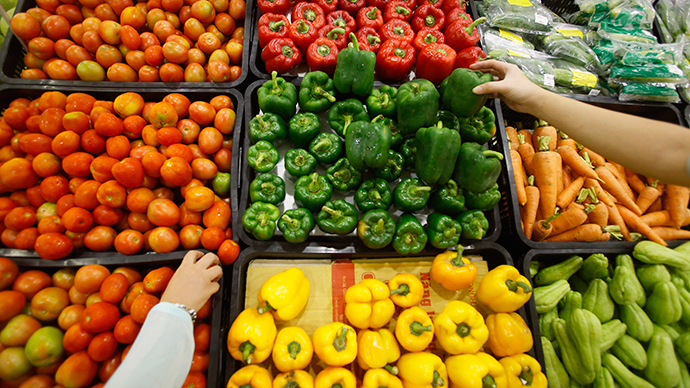 Half of Britons eat two or fewer portions of vegetables each day, while many count chocolate, cheese and meat towards their recommended daily 'healthy' diet, a study revealed.
Men eat fewer vegetables than women. The Vege-nation study showed that men eat on average 2.4 portions of vegetables a day, while women eat 2.7 portions.
A healthy diet should include five portions of fruit and vegetables a day, according to the World Health Organization (WHO), but the reality for most Britons is rather different. The study also reveals a wide variety of reasons why Brits avoid their greens.
One in seven respondents said they don't eat vegetables because they can't find exciting ways to cook them, while a quarter do not know how to cook vegetables at all, research conducted by food manufacturer Birds Eye showed.
Almost half of the Londoners questioned (47 percent) blamed their long commute to and from work for not having the time to cook a proper meal in the evening. More than half admitted that they only eat two or fewer vegetable portions each day.
Of 1,000 Britons surveyed, a quarter avoid buying vegetables because they expire quickly, while one in ten said they don't like eating vegetables because of childhood traumas and bad memories of school dinners.
READ MORE:UK poor priced out of healthy diet - report
Illustrating common nutritional misconceptions, the survey found 4 percent believe pasta and cereal make up one of the government's recommended five daily portions of fruit and vegetables.
Others thought Turkish delight, liver and cottage cheese all counted towards a healthy diet.
The study found people in Northern Ireland ate the most vegetables, with 2.9 portions every day. Meanwhile, people in the north west of England scored lowest, with 12 percent admitting they had not eaten a single vegetable in the past month.
In March this year, a study by University College London showed that the official five-a-day advice, recommended by the WHO in 1990 and backed by the UK government and the NHS, should actually be doubled to 10 portions a day.
The research also found that vegetables were four times healthier than fruit, and that eating large quantities of fruit and vegetables significantly lowered the risk of premature death. However, only 30 percent of people manage to eat even the recommended five portions.
The study's lead author, Dr Oyinlola Oyebode, said: "The clear message here is that the more fruit and vegetables you eat, the less likely you are to die at any age. My advice would be however much you are eating now, eat more."
The five portions a day advice was issued to lower the risk of heart disease, stroke, type-two diabetes and obesity.
You can share this story on social media: