UN warns world must produce 60% more food by 2050 to avoid mass unrest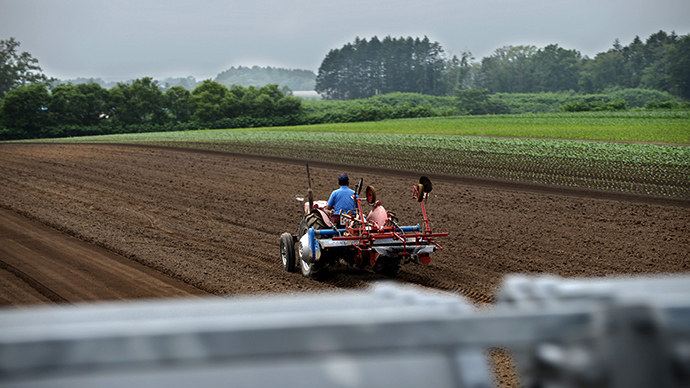 Political turmoil, social unrest, civil war and terrorism could all be on the table unless the world boosts its food production by 60 percent come mid-century, the UN's main hunger fighting agency has warned.
The world's population is expected to hit 9 billion people by 2050, which, coupled with the higher caloric intake of increasingly wealthy people, is likely to drastically increase food demand over the coming decades said Hiroyuki Konuma, the assistant director-general of the UN Food and Agriculture Organization Asia-Pacific.
Increased food demand comes at a time when the world is investing less in agricultural research, prompting fear among scientists that global food security could be imperiled.
"If we fail to meet our goal and a food shortage occurs, there will be a high risk of social and political unrest, civil wars and terrorism, and world security as a whole might be affected," Reuters cites Konuma as saying at a one-week regional food security conference in Ulan Bator, Mongolia.
Several factors could exacerbate the potential for apocalyptic famines. In November, a leaked draft of an Intergovernmental Panel on Climate Change report warned that climate change could cause a 2 percent drop each decade of this century. In the past three years for example, Australia, Canada, China, Russia and the United States have all suffered big flood and drought induced harvest losses.
Exacerbating this problem is a convergence in diets worldwide, with reliance on an ever smaller group of crops leaving global food supplies increasingly vulnerable to inflationary pressure, insects and disease.
"As the global population rises and the pressure increases on our global food system, so does our dependence on the global crops and production system that feeds us," Luigi Guarino, from the Global Crop Diversity Trust, told the BBC earlier this month.
"The price of failure of any of these crops will become very high."
Progress has been made in the battle against global hunger, with vegetable production in Asia and the Pacific, where more than three-quarters of the world's vegetables are grown, increasing by 25 percent over the last decade.
The FAO estimates, however, that 842 million people in the world remain undernourished, with nearly two thirds of them living in the Asia-Pacific. One in four children under the age of five is stunted due to malnutrition.
To combat the problem, the UN body has outlined two primary options: increasing arable land areas as well as productivity rates. A lack of available arable land and more sluggish growth rates in staple crops have complicated efforts to bolster these two pillars of food security.
Over the past two years, productivity rates for rice and wheat have hovered around 0.6 to 0.8 percent. Those rates would have to stabilize around 1 percent in order to offset serious shortages, said Konuma.
Environmentalists have also urged better food distribution methods. In February, the FAO, World Bank and World Resources Institute estimated that the world is losing 25 to 33 percent of the food it produces – nearly 4 billion metric tons.
More efficient agricultural production, better means of storing food and biologically diverse, local food systems less susceptible to global changes have also been proposed as solutions to help tackle the growing threat of food insecurity.
You can share this story on social media: