​Alan Henning's death 'may have deterred' Muslims from joining ISIS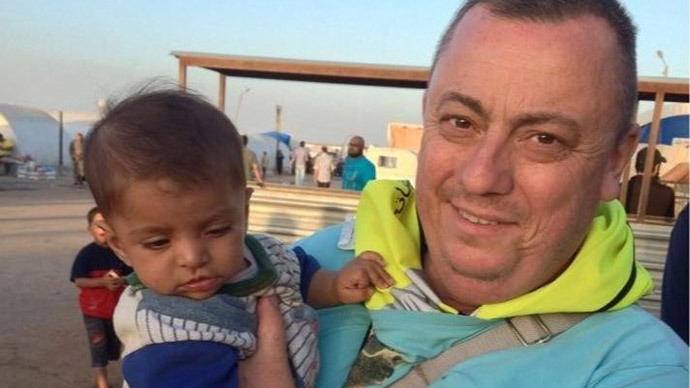 The beheading of British aid worker Alan Henning by Islamic State jihadists may have saved "thousands of lives" by shifting the opinion of British Muslims against the group, a leading expert on radicalization has said.
Sulaimaan Samuel, a National Safeguarding Mentor for the UK Home Office, believes that the death of Henning, a taxi driver and aid volunteer from Salford, Greater Manchester, helped drive British Muslims away from Islamic State, also known as ISIS or ISIL. Henning was captured while travelling with an aid convoy to help orphans and refugees.
"I would personally say to Alan Henning's family: do not think his death has been some type of waste because it hasn't," Samuel told Sky News.
"His death at the hands of IS is the very thing that has caused the Muslim community to realize that what IS stands for is wrong and can never be condoned," he added.
Henning's capture and the subsequent release of a video of him held hostage caused outrage among Britain's Muslim communities. Many prominent Islamic scholars, who usually avoid politics, called for his "immediate and unconditional release."
Despite their outrage, Henning was murdered by Islamic State jihadists in October.
"In Alan's death he has managed to save thousands of lives now and in the future of people who might potentially have been drawn into going out," Samuels said. "He will be saving lives in the future. What IS has done has backfired."
Despite the rejection of Islamic State by the majority of British Muslims, the government has warned that over 500 Britons have already joined the militant group, and that there are potentially thousands of people who support them residing in the UK.
Samuels also said that social media was a key element driving Britons to join militant groups, following statements by GCHQ chief Robert Hannigan on Tuesday.
Writing in the Financial Times, Hannigan said Britons would have to give up more of their privacy online to counter the growing national security threat from ISIS.
"The days where the baddie, the super villain was in a cave, in a dark lair somewhere sat in a corner, stroking a cat – those days are finished. With the advent of technology, the internet, people can promote any idea they have. You don't need to be Michael Moore or a Spike Lee to reach a wide audience," Samuels said.
The statements follow a report published by the Quilliam Foundation on Tuesday which looked at the relationship between the prominence of ISIS and its slick use of social media platforms.
"IS did not emerge out of the blue. It is an evolution of the same jihadist ideology that groups like Al-Qaeda espouse," said Quilliam researcher Charlie Winter.
"IS does, however, represent a shift in jihadist tactics, something rendered apparent by its manipulation of the internet, large-scale recruitment of foreign fighters, financial independence and seizure of swathes of Iraq and Syria."

Senior political figures including Mohammed Amin, chair of the Conservative Muslim Association also campaigned for Hennings release, and said that his death showed the true nature of the Islamist group.
"Alan Henning's murder by ISIS stripped away the heroic image that has misled so many young Muslims, revealing their heartlessness" Amin told RT.
Earlier this week, a British Jihadist known as Abu Abdullah al-Britani, whose real name is William Hasmou Clinic, was reportedly killed near the Syrian city of Deir ez-Sor in a Syrian government airstrike.
Clinic, who was fighting with ISIS, had previously appeared in videos encouraging Britons to travel to Syria and Iraq to fight.