​British banker charged in Hong Kong double murder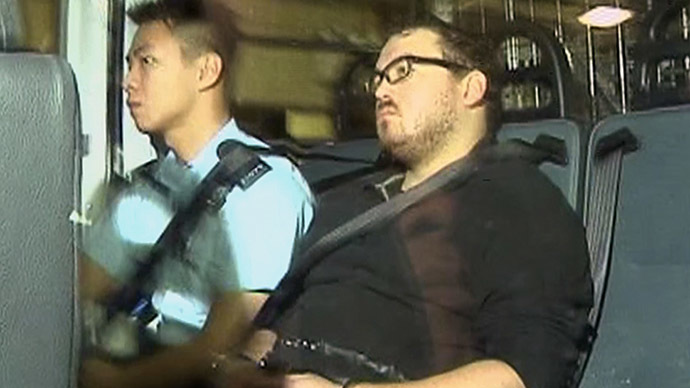 A British investment banker charged with the murder of two women in Hong Kong has been remanded in custody.
Rurik George Caton Jutting, 29, was arrested after the bodies of two women were discovered at his apartment in Hong Kong's vibrant Wan Chai district.
Asked whether he understood the charges, Jutting replied, "I do." The brief hearing was adjourned until November 10, without Jutting entering a plea.
On Saturday, police arrived at Jutting's 31st floor flat after receiving a call from the suspect. They found the body of a woman, believed to be 25 to 30 years of age, reportedly lying naked in the living room with knife wounds to her neck and backside. Officers also found a small amount of cocaine and a 12-inch knife in the flat.
"We believe the death was caused by a sharp object which cut the throat of the deceased," Assistant Commander Wan Siu-hung told reporters.
"This led to copious bleeding. When the police found her, she was lying in the living room. The room was messy."
A few hours later, police also found the body of a second woman, identified as Sumarti Ningsih, 25. Her body was found in a suitcase on the balcony with her feet hanging out. Police say she died on October 27.
"She was nearly decapitated and her hands and legs had been bound with ropes," The South China Morning Post quoted a police spokesman as saying.
"She was naked and wrapped in a towel before being stuffed into the suitcase. Her passport was found at the scene."
The two women are believed to have been Indonesian sex workers.
Jutting, a Cambridge University graduate, had reportedly quit his job at Bank of America Merrill Lynch. He is said to have left an out of office email message saying: "I am out of the office. Indefinitely. For urgent enquiries, or indeed any enquiries, please contact someone who is not an insane psychopath.
"For escalation, please contact God, though suspect the devil will have custody (Last line only really worked if I had followed through)."
The message has not yet been verified by the bank.
The South China Morning Post also reports that around 2,000 photos were found on the suspect's smartphone, including pictures of one of the victims. "Police are investigating whether there are more victims," a source told the paper.
Jutting had moved to Hong Kong in July last year, having worked for the Merrill Lynch London branch from 2010.
A Foreign Office spokesman confirmed a British national had been arrested in Hong Kong, adding, "We are in touch with the local police and stand ready to provide consular assistance."