​Ebola hospital ship docks in Sierra Leone in UK aid effort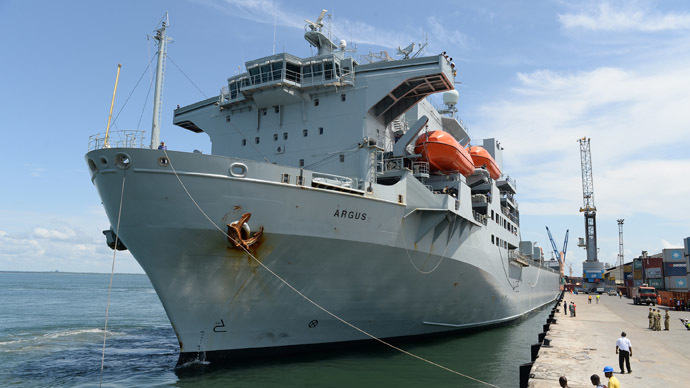 The British ship RFA Argus arrived in Freetown, the capital of Sierra Leone, on Thursday, delivering helicopters, a fleet of vehicles and aid supplies to help contain the Ebola outbreak – among the worst in West Africa.
"The arrival of RFA Argus reinforces the great work already done ashore and demonstrates how the British military's expertise will be used to support the government of Sierra Leone as together we tackle the spread of this appalling disease," said Defence Secretary Michael Fallon.
Three Merlin helicopters on board the 28,000-ton vessel will help British Army medical teams move quickly around the country "in their race to help tackle the Ebola virus."
The ship also delivered 5,000 water bottles and inflatable boats, which will be used to move equipment and personnel inland along Sierra Leone's rivers.
"To be able to fly equipment and experts right into the heart of the areas it is needed will be a fundamental change in the way we do business. It will give the effort ashore much greater agility and velocity to deliver the mission," RFA Argus commanding officer Captain David Eagles told Sky News.
"For the people on board the ship, it is just simply a case of rolling up their sleeves and getting in and contributing as best we can, and our people are very much looking forward to that."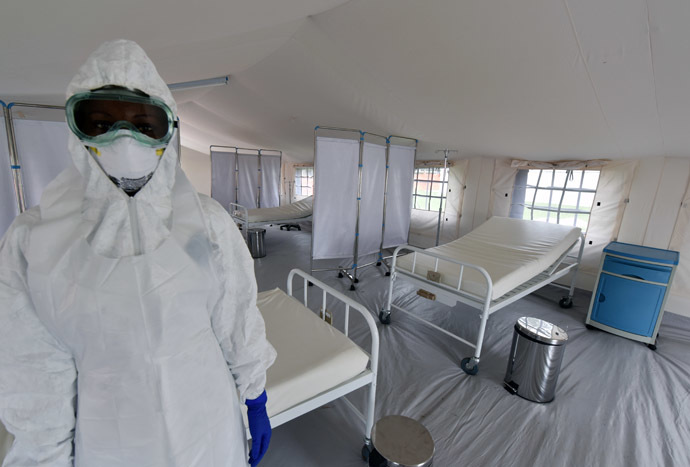 Donal Brown, director of the Department for International Development-led Ebola taskforce, said the ship's arrival will give a "tremendous boost to our fight against Ebola."
"Working directly with the Sierra Leonean authorities, they will quickly direct assistance to where it is needed most," he said
RAF staff are based at Accra in Ghana. In total, around 800 British military personnel are being deployed to help build Ebola treatment centers and a medical training academy.
READ MORE:UK to send 750 troops to Sierra Leone in Ebola support effort
By the end of November, 700 beds will be ready for Ebola patients. The UK has also helped build five treatment units.
Health experts have repeatedly stressed that local health systems are overburdened by the recent outbreak and that demand far exceeds supply. At present there are more people affected by Ebola than there are treatment centers and beds to care for them.
There is no proven cure or vaccine for Ebola. The deadly virus has infected 13,703 people and killed 5,235 since the outbreak began in March, according to the World Health Organization.
You can share this story on social media: