Disaster charities launch 'unprecedented' Ebola fund appeal
Published time: 29 Oct, 2014 12:47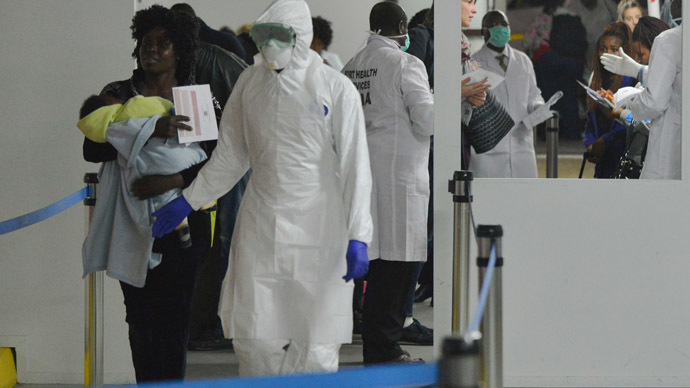 The Disasters Emergency Committee has launched an appeal for funding to stop the rapid outbreak of Ebola, warning the epidemic is no longer just a medical emergency but a humanitarian catastrophe.
"The explosive spread of Ebola in West Africa is not just killing the infected but also ripping apart health services, devastating communities, and destroying people's ability to support themselves," the DEC said in a statement.
The appeal calls for donations to pay for the running of treatment centers, protective clothing for medical workers, medical supplies, food, clothing, water and sanitation services.
Funding would also be targeted at raising awareness in communities of the risks of infection, and the protection of orphaned children who have lost their parents to the deadly disease.
The group's Chief Executive, Saleh Saeed, said the unprecedented appeal shows how serious the situation in West Africa has become.
"In its 50 year history, the DEC has launched appeals for humanitarian disasters caused by floods, famines, earthquake, typhoons, and countless conflicts," he said. "We have never run an appeal in response to a disease outbreak – until today.
"While many chronic diseases cause untold suffering in poorer countries, the worst acute outbreaks of deadly diseases such as measles or cholera have usually occurred in the wake of another type of disaster."
"In West Africa today we are seeing a disease create not just a medical crisis but a humanitarian emergency. Without urgent action to stop the spread of Ebola and to help those affected by the crisis, parts of West Africa face catastrophe within 60 days," Saeed added.
The DEC acts on behalf of 13 aid organizations including Oxfam, the British Red Cross and Save the Children. The appeal will be aired on major British broadcasting channels on Thursday.
To date, there have been 10,141 confirmed, probable and suspected cases of Ebola and 4,922 reported deaths since the beginning of the outbreak, according to the World Health Organization (WHO).
The figures are feared to be two or three times higher because many people with the disease do not get to a treatment center and die at home, where they can infect family members.
The WHO also warned there could be between 5,000 and 10,000 new cases per week in the worst affected countries – Sierra Leone, Liberia and Guinea – by December. It is the deadliest and largest Ebola outbreak since the disease was discovered in 1976.
READ MORE:5 things about Ebola you should know
This comes as Jim Yong Kim, the president of the World Bank, appealed for thousands of medical workers to volunteer and help contain the growing Ebola outbreak. He said at least 5,000 medical workers were needed to beat the disease.
"Right now, I'm very much worried about where we will find those healthcare workers," he said. "With the fear factor going out of control in so many places, I hope healthcare professionals will understand that when they took their oath to become a health care worker it was precisely for moments like this."
In September, WHO director general Margaret Chan said that the "number of patients is moving far faster than the capacity to manage them."
Meanwhile, a new testing facility to help investigate possible cases of the Ebola virus will be established in December in the Lothians, Scotland.