​#BumpGate: Man runs into David Cameron, sparks security frenzy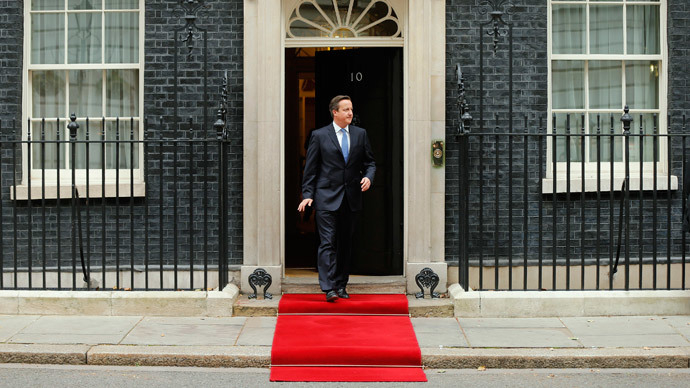 A man has been detained by police after attempting to push UK Prime Minister David Cameron as he left a press conference in the Civic Hall in Leeds.
The unnamed 28-year-old man, who wore long black hair and a black t-shirt with yellow lettered, ran up to the Prime Minister as he was walking to his car with a security entourage.
The video shows the PM's guard hauling the man to the ground while Cameron is escorted away, although it is still unknown whether the PM was touched by the man.
"Around midday today, a 28-year-old local man was briefly arrested after he came close to the Prime Minister's group, who had just left the Civic Hall in Leeds," Chief Inspector Derek Hughes said.
"No threats were made, and after the man's details were checked he was de-arrested and allowed on his way."
West Yorkshire Police also tweeted that the man was "in the wrong place at the wrong time" but the incident was "nothing sinister."
It is understood the man claimed he ran into the Prime Minister 'by accident' as he went jogging.
The incident sparked a number of satirical posts on social media websites, with some christening the incident with the hashtag #BumpGate.
@WikiGuido@KayBurley The MSM going overboard on the Cameron #bumpgate saga.Clearly he and Osborne look stressed. pic.twitter.com/4JmDchf471

— ScoopeX (@scoopex) October 27, 2014
"'After the man's details were checked he was de-arrested and allowed on his way.'' De-arrested? Ye gods #bumpgate

— Robert Colvile (@rcolvile) October 27, 2014


The PM should be praised for preventing the man from tripping over the kerbstone, as he would've done if he'd kept going. #heroPM#bumpgate

— Oliver Cooper (@OliverCooper) October 27, 2014
While the Prime Minister emerged from the incident unscathed, recent events in Canada, where Michael Zehaf-Bibeau breached parliament security with a gun, may force UK authorities to review its security measures in the future.
Downing Street have declined to make an official comment about Monday's incident, or about its future security plans.