Radical preacher Anjem Choudary among nine arrested in London anti-terrorism raid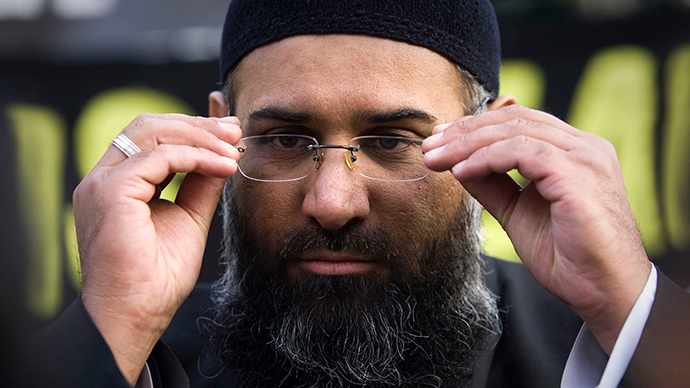 Anjem Choudary, one of the highest-profile Islamists in Britain, has been arrested by police along with eight other men for allegedly encouraging terrorism.
The men were held on suspicion of being members of, or supporting, a banned organization under terrorism laws and encouraging terrorism, police said.
They were arrested by members of the Metropolitan Police Service's Counter Terrorism Command on Thursday. Scotland Yard said 19 properties across London and in Stoke-on-Trent in central England are being searched.
Scotland Yard said the men were arrested as "part of an ongoing investigation into Islamist-related terrorism and are not in response to any immediate public safety risk."
The men, aged between 22 and 51, are in custody at stations in central London.
Choudary was one of nine men arrested, British media report.
Al-Muhajiroun is understood to be a banned organization, sources told the Press Association. The group was proscribed in 2010.
The group is also known as Islam4UK, and Anjem Choudary is said to be the group's leader.
When the organization was banned in 2000, then-Home Secretary Alan Johnson said, "I have today laid an order which will proscribe al-Muhajiroun, Islam4UK, and a number of the other names the organization goes by. It is already proscribed under two other names - al-Ghurabaa and the Saved Sect. Proscription is a tough but necessary power to tackle terrorism and is not a course we take lightly."
The group was set up by Choudary and Syrian national Omar Bakri Muhammad, who was told he could not return to the UK after the 7/7 bombings. The radical group reinvented itself under various names, and those incarnations were also proscribed.
Michael Adebolajo and Michael Adebowale, who were both jailed earlier this year for the brutal slaying of soldier Lee Rigby in Woolwich, London, have both been affiliated with al-Muhajiroun.
Choudary was reported to have said he had no sympathy for aid worker Alan Henning, who has been captured by the Islamic State in Syria. He reportedly said: "In the Koran it is not allowed for you to feel sorry for non-Muslims. I don't feel sorry for him."
FACT: The Islamic State could not wish for a better rallying call for Muslims worldwide to join them than for the USA to start bombing again

— Anjem Choudary (@anjemchoudary) September 25, 2014
In June this year, the Immigration and Security Minister James Brokenshire said that Al Muhajiroun could again be operating under different names, including Need4Khilafah, the Sharia Project and the Islamic Dawah Association.
"This organization was proscribed in 2006 for glorifying terrorism and we are clear it should not be able to continue these activities by simply operating under alternative names," Brokenshire said.
"The effect of this order is that being a member of or supporting any group operating under these names will be a criminal offence" under the Terrorism Act, he stated.
Britain last month raised its international threat level to the second-highest level of 'severe', meaning an attack is considered very likely. Prime Minister David Cameron has said the Islamic State militant group in Syria and Iraq poses the country's greatest-ever security risk.
You can share this story on social media: