Bond girl Olga Kurylenko honorary guest at Russian charity ball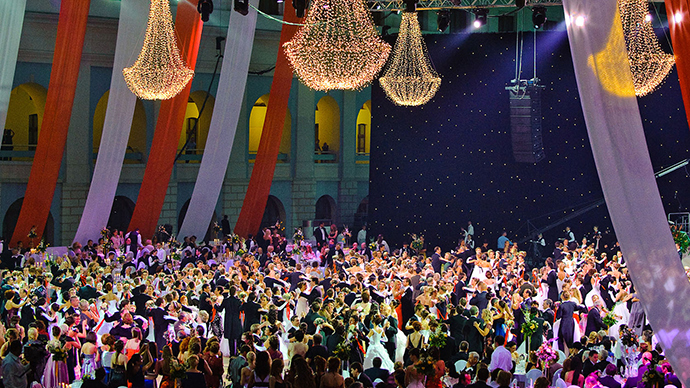 London's Old Billingsgate Hall will host the Second Russian Charitable Ball on November 2, attended by Hollywood actress and Bond girl Olga Kurylenko as honorary guest.
A unique event on the city calendar, the Russian Ball is primarily a cultural occasion, aimed at highlighting the country's history and reviving its cultural traditions, according to chief organizer Timofey Musatov.
"A ball is a unique opportunity to dedicate an evening to Russian culture, communication and certainly to dancing," said Musatov.
"We are very happy that Olga has accepted our invitation to become the ball's honorary guest. As in the past, balls are attended by creative professionals, entrepreneurs, musicians and politicians."
Ukrainian born Olga Kurylenko is famed as the leading lady in the 2008 James Bond blockbuster Quantum of Solace, starring Daniel Craig.
Organizers, Vebamos Event Management Russian Balls Worldwide and FJM group, have also invited Venera Gimadieva, a soprano and soloist at the Bolshoi Theater Opera Company, whose performance will be the evening's highlight.
The Ross Mitchell Band will play slow waltz, tango, rumba, and quickstep, while multiple champions from the XS Latin dance team will perform lively Latin American dances.
Music will be provided by the Russian Virtuosos of Europe chamber orchestra, conducted by Felix Korobov.
"The Second Russian Charitable Ball organized under the auspices of Princess Olga Andreevna Romanoff, a descendant of the House of Romanov, is not just a sparkling social occasion. It is, above all, a tribute to the origins of arts patronage, a revival of the creative intelligentsia and a preservation of the spirit of aristocracy," said Elisabeth Smagin-Melloni, founder of Vebamos Event Management.
"As in the past, these events continue to be a place to relax and meet people, find inspiration and make deals, while enjoying the arts and generating new ideas."
Tickets for the Second Russian Charitable Ball at Old Billingsgate Hall, November 2, can be purchased online.