Afghanistan failures could have led to UK troop 'massacre' - army chiefs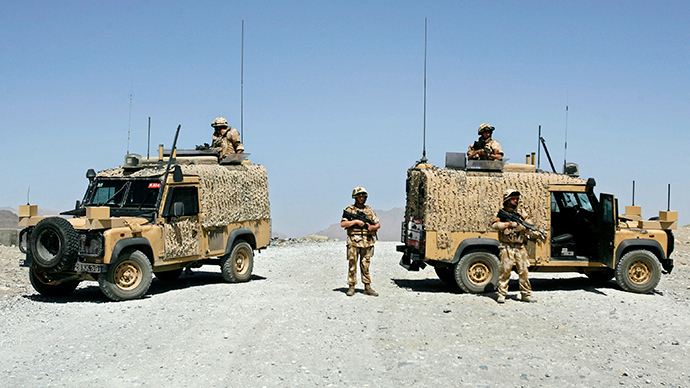 British military chiefs admitted the ill-planned military campaign in Afghanistan created the "perfect storm" for stretched British troops while they were fighting two wars simultaneously, putting them at risk of being "massacred."
Ahead of the troop withdrawal from the Central Asian state in December after a 13-year campaign, senior figures have criticized the British military operation, offering a damning assessment of its planning and strategy.
General Lord Richards, the former Chief of the Defence Staff, said while the army traditionally hoped for the best and planned for the worst scenario, he claimed in Afghanistan "we were actually hoping for the best and planning for the best."
General Lord Dannatt, head of the Army between 2006 and 2009, added his own assessment, claiming "we knew that we were heading for two considerable-size operations and we really only had the organization and manpower for one.
"Therefore perhaps we should have revisited the decision ... that we the UK would lead an enlarged mission in southern Afghanistan in 2006 ... We didn't do that."
Since the Afghanistan conflict began in 2001, 453 British troops have died.
Despite its heavy military engagement in Iraq, the UK deployed thousands more troops to Afghanistan in 2004. It sent 3,300 troops as part of the NATO coalition, forcing British troops to fight two wars simultaneously.
British soldiers were embroiled in a violent conflict with insufficient support, food and equipment, fighting in villages far away from their bases, Dannatt said.
"There was a real danger that we would find that we couldn't support our people, that we would find a platoon cut off and potentially massacred if you like," he added.
In the BBC2 series 'Afghanistan: The Lion's Last Roar?', Dannatt admitted the situation created the "perfect storm."
"As far as an operation like Iraq or Afghanistan was concerned, we could do one of that size indefinitely, and we could do another similar size but for a maximum of six months," he said.
READ MORE:Afghanistan visit: PM says Britain paid 'very high price' for stability
In May 2006, the UK took responsibility for security in the southern province of Helmand, which was a more challenging undertaking than previously thought.
"We were underprepared, we were under-resourced and, most importantly, we didn't have a clear and achievable strategy to deliver success," said Brigadier Ed Butler, commander of British Forces in Helmand in 2006.
The 2006 shift in focus back to Afghanistan created severe problems in the drawdown of troops from Iraq, the military leaders admitted. The strategy created the condition whereby the Islamic State could go on to seize large swathes of northern Iraq.
Despite its problems, the officials said the campaign had been worthwhile.
"The lasting impact we will have had is not just to sanitize the threat to allow the development of governance and economy, but to be a witness to and stimulus for very significant social change, with an improving economy, with jobs, with much developed farming opportunities in contrast to narcotics," former Chief of the General Staff Sir Peter Wall said.
"Had we not done this, Helmand could well be looking rather like the borders of Syria and Iraq."