Afghanistan visit: PM says Britain paid 'very high price' for stability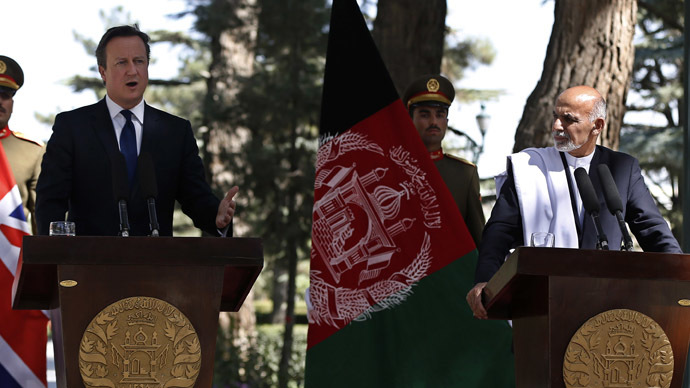 UK Prime Minister David Cameron made a surprise visit to Afghanistan on Friday to meet the new president, Ashraf Ghani. The PM acknowledged that Britain had paid a "very high price" to bring stability to the country.
Cameron is the first world leader to meet Afghanistan's new government since Ghani was sworn into office four days ago, after months of political turmoil in a disputed election.
The visit comes after Ghani agreed to a power-sharing deal with his presidential rival Abdullah Abdullah to form an Afghan unity government. The Chief Executive Abdullah is now effectively Afghanistan's prime minister.
"We all share a common goal, which is a more secure, stable and prosperous Afghanistan," Cameron said during a joint press conference with Ghani in the Afghan capital, Kabul.
"We want an Afghanistan that is no longer a safe haven for terrorists or a threat to the security of either of our countries, and today we've discussed how together we can achieve those goals," Cameron said.
Regarding the Afghan unity government, Cameron said, "The people of Afghanistan deserve an effective and legitimate government that will build a better future for them and their families."
British and NATO troops will withdraw from Afghanistan at the end of this year, as Afghan security forces take control of operations against the Taliban. A small number of soldiers will stay in the country to train Afghan army officers.
During his unannounced visit, Cameron said Britain's armed forces had paid a "very high price" for their involvement in Afghanistan.
Some 453 British servicemen and women were killed during the war in Afghanistan since the US-led intervention began in 2001 in the wake of the 9/11 terrorist attacks.
"[British armed forces] have paid a very high price for our engagement in Afghanistan," said Cameron. "They have done vital work here.
"We should remember those who paid the ultimate price and those who were injured through the work they did."
Military intervention 'transformed' Afghanistan
Cameron argued that the 13-year military mission was worthwhile.
He said Afghanistan had been transformed since western military intervention and described its progress as a "very real achievement." He said Afghanistan was the place the 9/11 attacks and countless other plots were planned from and where Al-Qaeda had been formed.
"Al-Qaeda and the training camps have been driven out. We are fighting a generational struggle against Islamic extremist terrorism. It had its original furnace here where Al-Qaeda was based."
To achieve security in the country and drive militants out, Cameron said it "required an Afghan army and police capable of taking care of their own security and denying Al-Qaeda a safe haven."
"Together we have made Afghanistan safer, we have made Britain safer," he said, adding that British forces have gone "a long way" to achieving this.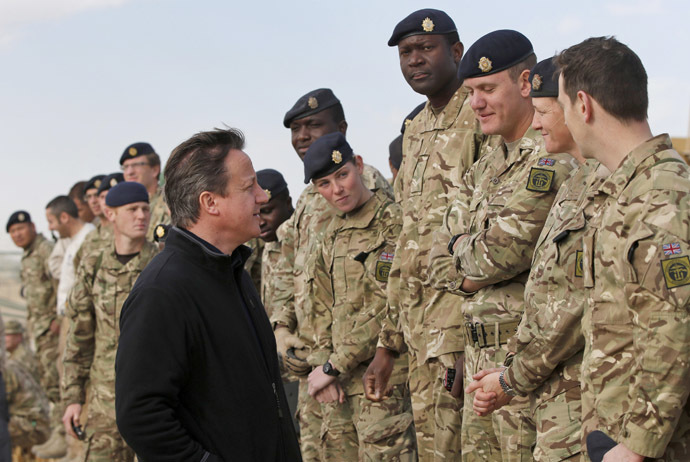 Ghani said British troops had stood "shoulder to shoulder" with his country, and thanked British service personnel that got injured while serving in Afghanistan.
"Your presence has meant London has been safe, as well as the rest of the world," Ghani said. "We face joint threats."
Cameron promised that the UK would continue to support the Afghan National Officer academy in Kabul and it would provide 178 million pounds a year until 2017 to "sustain the major progress" Afghanistan made in in public services, including health and education.
In his last visit to the country before British troops pull out, he warned that military strength would still be needed as the fight against Islamic extremism all over the world continues. Cameron also said the achievements of the British troops "will live forever."
However, the Taliban are still active in Afghanistan. There has been a surge of Taliban attacks, especially in Helmand. Around 7,000 to 9,000 Afghanis were killed or wounded this year alone, the commander of international forces (ISAF), US Army General John Campbell, said.
On Wednesday, two Taliban suicide attacks killed seven Afghan soldiers and wounded almost 20 others.
The US and Afghanistan signed a bilateral security agreement on Tuesday saying the US would keep up to 9,800 troops in Afghanistan after troops withdraw in December to advise and support Afghan security forces and to carry out counter-terror operations. The Taliban opposed the deal, which secures a long-term presence of US troops.
Before flying to Afghanistan, Cameron visited the RAF base in Akrotiri, Cyprus, where RAF Tornado jets are currently launched to strike against Islamic State (IS) targets in northern Iraq.
"We are fighting a generational struggle against Islamist extremist terrorists," Cameron said. "This is a battle we are going to be engaged in for many, many years."