'Racist' hoax claims man with Ebola 'on run' in English city
Published time: 22 Oct, 2014 16:02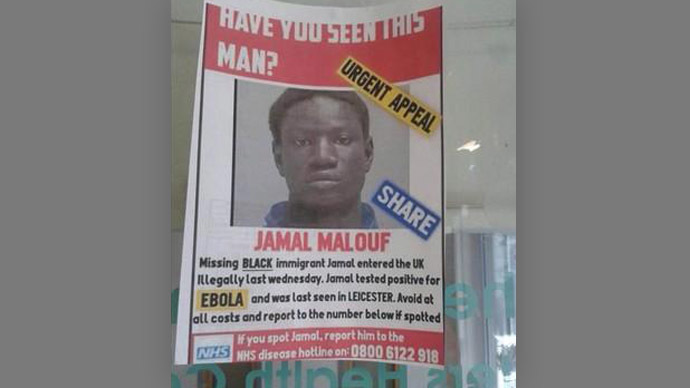 In a hoax branded as 'racist', an image has been circulated on posters and social media claiming a black illegal immigrant, who tested positive for Ebola, is missing in Leicester, England.
Far-right website, the Daily Bale, published an article claiming an "illegal immigrant with Ebola [is] on the run" in the English city.
The photo of a man named "Jamal Malouf" was seemingly lifted from the internet. His real name is Ansumana Jadama, a 20-year-old who was stabbed to death outside his home in South Salt Lake, Utah, USA, in September 2013.
Social media users have slammed the "racist campaign."
The racist @DailyBaleNews puts up out fake #Ebola poster in Leicester in attempt to promote racism. Fake picture RT pic.twitter.com/nfoTa7HhM1

— Lee Jasper (@LeeJasper) October 22, 2014
A poster print of the image was put up in a medical center, the Leicester Mercury reports.
Titled 'Have you seen this man?' the poster says, "Missing black immigrant Jamal entered the UK illegally last Wednesday. Jamal tested positive for Ebola and was last seen in Leicester. Avoid at all costs and report to the number below if spotted."
The Daily Bale article claims that Malouf "arrived in the UK by shipping container last Wednesday."
It also alleges that the NHS "upped the Ebola threat to critical" and set up an emergency hotline to be dialed if someone spotted the "32-year-old Somalian illegal immigrant." The number shown on the poster is disconnected.
No, there isn't a man with ebola wondering around Leicester - http://t.co/xtLjQAf4zg - apparently some far right wingers idea of a joke.

— Ned Trifle (@nedtrifle) October 21, 2014
"We are aware of a poster which has now been removed from a medical center in Leicester and our enquiries in relation to this are ongoing," a spokesman for Leicestershire Police told the International Business Times.
"We would like to assure the public that there are no known cases of Ebola in Leicester, Leicestershire and Rutland."
Four people in Leicestershire have been tested for the virus, but the results came back negative. There have been no known cases in the UK to date.
"Overall the risk of Ebola in the UK remains low, and we have a world-class domestic health system that is ready to respond if we do see a case in the UK," a spokesperson for Public Health England in the East Midlands said.
Earlier this month, a student from Sierra Leone was denied accommodation in Norwich, England, over Ebola fears. Similarly, a healthy nine-year-old boy from Sierra Leone was denied from attending a school in the UK, because parents of other pupils panicked over the potential spread of Ebola.
PRESS PLAY: WATCH THIS PSA. STAND UP AND LET'S STOP THE STIGMATIZATION. I AM A LIBERIAN, NOT A VIRUS!... http://t.co/EtK3HNCapK

— Shoana Cachelle (@ShoanaSolomon) October 13, 2014
Meanwhile, Shoana Solomon, a Liberian TV presenter and photographer who lives in the US, has started a campaign called 'I am a Liberian, I am not a virus' to fight against the stigmatization of Liberians abroad, who are being associated with the Ebola epidemic because of their national origins.