'Barely lucid': Mentally ill UK grandfather on death row, family appeal
Published time: 17 Oct, 2014 15:14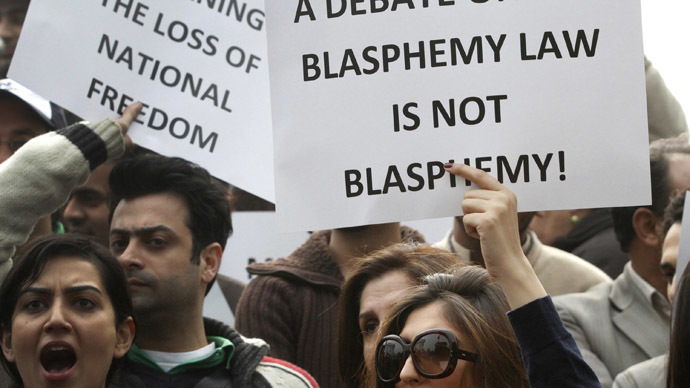 The daughter of Mohammad Ashgar, a British-Pakistani man from Edinburgh, who has been sentenced to death in Pakistan under the state's blasphemy laws, is due to discuss her father's case with the UK Foreign Office on Friday.
Ashgar is currently being treated in a Pakistani hospital, after he was targeted and shot by a prison guard in September of this year.
According to UK-based human rights NGO, Reprieve, the British grandfather suffers from a severe mental illness and requires vital and ongoing treatment.
Despite vocal campaigning for Ashgar's safe return to Britain, Pakistani officials have sought to transfer him back to the jail where he was shot.
Urging the British government to intervene, Jasmine Ashgar will meet Foreign Office officials in Westminster. She will submit a petition signed by almost 70,000 people calling on Prime Minister David Cameron to demand the Pakistani government release her 70-year-old father.
Save #Mohammad Asghar,a Brit facing blasphemy death sentence in #Pakistanhttp://t.co/LZfpzkNoj6 via @38_degrees

— Michael Reed (@GReed2001) October 6, 2014
Ashgar was arrested by Pakistani authorities in September 2010 for allegedly making statements punishable under the state's blasphemy legislation. He has been detained in Pakistani custody since his initial arrest.
Prior to his trip to Pakistan, Ashgar was taken ill and sectioned under the UK Mental Health Act.
Pakistan's judiciary has failed to acknowledge Ashgar's mental health problems, despite being raised during his trial and in all subsequent appeals. The British grandfather was sentenced to death in January of this year.
Ashgar's family are highly concerned for his wellbeing, according to Reprieve, amid reports he is "barely lucid" during legal consultations with his lawyers in Pakistan.
Reprieve argue Pakistani prison authorities are not equipped to offer Ashgar adequate medical care, while the state's authorities have refused to grant him access to a doctor to independently assess his mental health.
Authorities in the Punjab province of Pakistan, where Ashgar is detained, have refused requests on behalf of his lawyers to access the findings of an investigation into his shooting. They have also been refused access to his updated medical records.Scottish First Minister Alex Salmond met with Ashgar's relatives earlier this week. Salmond offered the Scottish government's full support in calling for his release.
.@David_Cameron This PM, Mohammad Asghar's daughter will deliver you a 70k-signature petition. Will you #BringMohammadHome? @38_degrees

— Reprieve (@ReprieveUK) October 17, 2014
Ashar's daughter and his lawyer, Aamer Anwar, had planned to discuss his plight with Prime Minister David Cameron while in London, but are now due to meet with Foreign Office Minister Tobias Ellwood.
Reprieve's director, Maya Foa, issued a formal letter to Cameron on Friday urging him not to allow collective calls for Asghar's release to go "unheard and unheeded."
Death for "blasphemy"? 1000s echo daughter's Downing St call to bring back mentally-ill Brit Mohammed Asghar http://t.co/rT0bHaLvKz

— Jeffrey Kaye (@jeff_kaye) October 17, 2014
Foa also emphasized the unacceptable manner in which the Punjab government has persistently refused to recognize the British grandfather's mental illness.
Kate Higham, a leading investigator at Reprieve, said the time had come for the Prime Minister to take action.
"Mr Asghar is seriously mentally-ill and should never have been sentenced in the first place – and he is extremely vulnerable while he remains in Pakistan. It's clear that the Pakistani authorities are unwilling to acknowledge his illness or allow his lawyers and family to support his case."
"David Cameron must intervene as an absolute priority to ensure that Mr Asghar is properly treated by the authorities, and ultimately allowed to return home."
Jasmine's Ashgar's meeting with the Foreign Office follows an Amnesty International report, published on Tuesday, whichcriticized Pakistan and other nationsfor allowing inmates with mental illnesses and disabilities to be executed.
The human rights group said such action is in clear violation of international standards.