Secretive Home Secretary quizzed over UK mass surveillance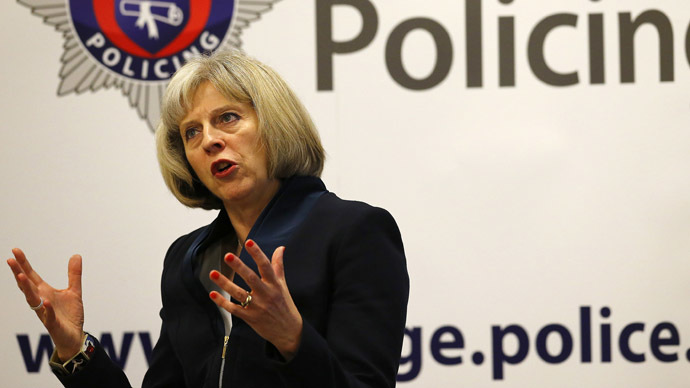 Home Secretary Theresa May gave evidence, mostly in secret, at the Intelligence and Security Committee inquiry into UK privacy and security on Thursday. She said "there are times when it is entirely right that the government should be silent on things."
This comes as the former home secretary, David Blunkett, called for stronger oversight of the UK's intelligence agencies and for the legal framework on mass surveillance to be updated frequently.
"This country is not subject to mass surveillance," May said during the hearing. "There is a lot written about this that is not accurate."
The inquiry was largely prompted by Edward Snowden's leaked revelations concerning GCHQ internet surveillance, published by the Guardian.
The committee questioning May heard evidence from the heads of the UK's intelligence agencies earlier this year, and took evidence from Deputy Prime Minister Nick Clegg and Shadow Home Secretary Yvette Cooper in a public hearing on Wednesday. Half of Thursday's session with May was held in secret.
READ MORE:Spy agencies require more stringent UK oversight – former Home Sec
She defended the bulk collection of personal data by GCHQ and said this in itself was not "an invasion of privacy." She added: "We have to have a haystack to be able to find the needle we need."
May argued that bulk data collection is an "important part" of fighting terror, but she refused to reveal how many terror-related cases have been solved thanks to data collection.
She revealed that only a "very, very small" number of intelligence service requests for surveillance warrants were rejected.
Asked whether a judge would be a more appropriate authority to approve secret surveillance, May said only "democratically elected" people should wield such a power, as they could be held to account.
May admitted "I'm in no way a technical person," when asked about cloud storage, where people's data is uploaded and stored abroad, muddying the waters of domestic spying.
The Home Secretary announced the UK government would issue a new code of practice intended to limit the extent to which the police use the Regulation of Investigatory Powers Act (Ripa) to reveal the identity of journalists' sources.
You can share this story on social media: