​Choose your epidemic: More UK soldiers fighting Ebola than terrorism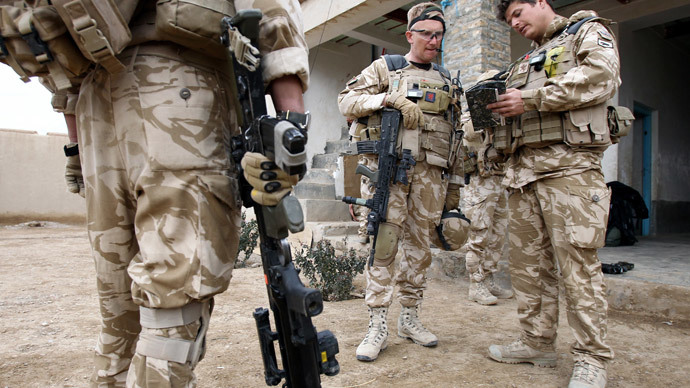 More British soldiers will be sent to curb the Ebola crisis than to fight terrorist groups, including the Taliban and the Islamic State (IS/ISIS/ISIL), as the UN warns the deadly disease is "winning the race."
Around 750 British troops are on their way to Sierra Leone to help set up medical centers and train staff on the ground in an effort to contain the virus, which has so far killed more than 4,000 people.
In contrast, only a small 'specialist' team is involved in US-led airstrikes against ISIS in Iraq.
UK Defence Secretary Michael Fallon said the UK "had to act" the stop the spread of the disease and that British troops were necessary to "get the outbreak under control."
"Unless it's brought under control, it's going to spread across West Africa, into Europe and the UK," he added.
Fallon visited members of the Royal Navy, Royal Fleet Auxiliary and the Royal Marines on Tuesday, which will join more than 300 other British military personnel deployed to West Africa.
A further 200 troops are to be deployed by the end of this year to staff the World Health Organization led Ebola training facility, according to the Ministry of Defence (MoD).
"The UK Armed Forces have so far played a pivotal role in delivering Britain's response to the Ebola outbreak in Sierra Leone with our engineers and planners working alongside local building contractors on the construction of Ebola treatment centers and healthcare facilities," Fallon said on Tuesday.
READ MORE:UK to send 750 troops to Sierra Leone in Ebola support effort
The additional support comes as the United Nations warns it has only two months to tackle Ebola before it runs out of options, and that there could be between 5,000-10,000 new cases recorded per week.
"We either stop Ebola now or we face an entirely unprecedented situation for which we do not have a plan," said the UN's deputy Ebola coordinator Anthony Banbury on Wednesday.
"The WHO advises within 60 days we must ensure 70 percent of infected people are in a care facility and 70 percent of burials are done without causing further infection," he added.
The deployment of British troops comes alongside an extra 100 US soldiers being sent to contain the disease in Liberia, one of the country's worst hit by the epidemic.
While there are currently 565 US soldiers in West Africa, President Obama has pledged up to 4,000 US military personnel to assist in humanitarian efforts there.
US forces have already set up a headquarters in the Liberian capital, Monrovia, and are working on opening a 25-bed hospital before the end of October, along with up to 20 regional Ebola treatment units.
While the British government has assured that Ebola is a 'low-level' threat to the UK, international airports including Heathrow have started screening passengers for the disease, after Health Secretary Jeremy Hunt said a "handful" of cases was expected to hit the UK by December.
Passengers being screened include those traveling from Liberia, Sierra Leone and Guinea.
Prime Minister David Cameron is also scheduled to take part in a video conference call on Wednesday with US President Obama and EU leaders to discuss the outbreak.
You can share this story on social media: