Tories up in arms over foreign aid hikes, demand greater defense spending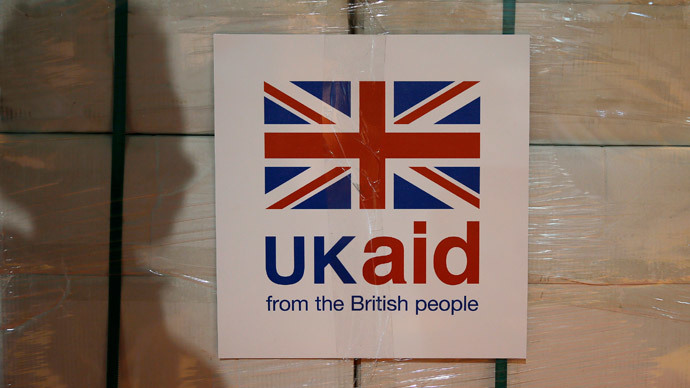 As the government of Prime Minister David Cameron looks to increase foreign aid spending, backbench Tory rebels say they will respond by demanding an increase in defense spending to two percent of national GDP.
The Tories are expressing their displeasure over foreign aid legislation, which, if passed by the House of Commons, would lift foreign aid expenditures to 0.7 percent of national income.
UK foreign aid spending is already at £12 billion annually.
"People wonder, what is the prime minister doing," remarked former Defense Minister Sir Gerald Howarth, as quoted by the Daily Mail. "They do not get why he is promising to spend billions more on aid while he is making soldiers redundant."
"This bill is the sort of thing that drives traditional Conservative supporters to UKIP."
UKIP, the UK Independence Party, has created a stir in the British political scene with its right-wing, anti-immigration, nationalistic message that helped it win 24 of UK's 73 seats in the European parliament.
The party, under the leadership of Nigel Farage, also won two high profile defections from Tory ranks, one of whom, Douglas Carswell MP, was elected to Parliament last week.
Sir Gerald said the Tories will respond to any increase in foreign spending by demanding similar measures for the defense sector.
The Tory rebels pointed to a recent report by the right-wing Tax Payers' Alliance, which showed that foreign aid expenditures "is being increased, against a growing backdrop of academics and aid practitioners increasingly of the opinion that it is not delivering as it should."
The report made awkward claims about the effectiveness of aid spending. An analysis of 20 countries that were beneficiaries of British aid showed that direct financial input "does not have any discernible impact on freedom in developing countries."
Ten nations showed little or no change in their levels of freedom despite an increase in the bilateral aid they received (Bangladesh, DR Congo, Ethiopia, India, Malawi, Mozambique, Pakistan, Uganda, Vietnam and Zimbabwe).
At the same time, five countries showed a drop in their freedom score despite an increase in the amount of aid received (Afghanistan, Kenya, Nigeria, Somalia and Sudan).
Jonathan Isaby, chief executive of the Tax Payers' Alliance, told the Mail: "Too often, British taxpayers' money is spent propping up governments that refuse to grant fundamental freedoms."
A spokesman for the Department for International Development responded to the comment by expressing enthusiasm for what the aid packages achieve.
"Britain promotes freedom by backing fair elections, a free press and individual rights, and we should be proud of that," he told the British daily.