​UK wastes millions on 'development' aid to China
Published time: 17 Dec, 2013 00:28
Edited time: 17 Dec, 2013 00:30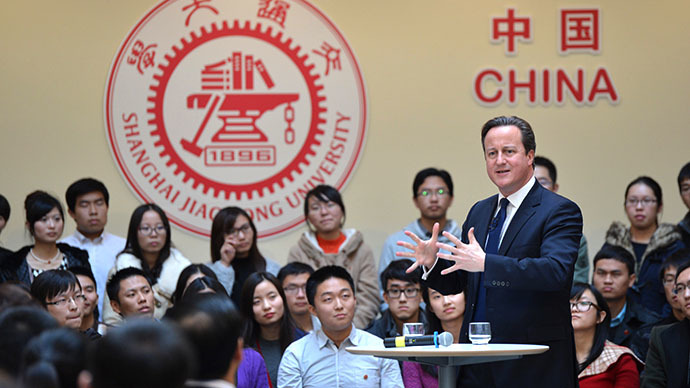 The British government has been blasted for giving millions in aid to China and other nations developing their own space missions. Yes, the world's second largest economy and third nation to send a mission to the moon is receiving aid from the UK.
The UK gave Beijing £27.4 million (US$44.6 million) in aid last year, the Daily Mail revealed. The news came just as China vowed to collect samples of lunar soil in its next space mission, which is set for 2017.
Throwing money away on China - the second economy in the world behind the United States and owner of a massive space program - cannot be justified, Tory MP Peter Bone stated.
"The public will be rightly horrified that we are still wasting money on aid to China," Bone told the Daily Mail, calling on International Development Secretary Justine Greening to explain the aid programs.
"It's extraordinary that we are doing this while they send a mission to the moon. If these aid programs are still continuing then I think Justine Greening needs to come to parliament and explain what the justification is, because I can't think of one," Bone said.
China is among 16 countries which were judged to be ineligible for financial assistance back in 2011. All bilateral aid was then set to be stopped within five years. However, of those 16 countries, only Russia has been cut off from aid.
"Since 2011, we have stopped or are in the process of stopping bilateral aid to over a dozen countries that are becoming more prosperous like China and Russia," a spokesman for the British Foreign Office said.
UK taxpayers shelled out £131.9 million ($215 million) in foreign aid to the remaining 15 nations in 2012, with £51.5 million ($83.9 million) going to Vietnam and £10.2 million to Kosovo.
Britain also sent £208 million ($338 million) in aid to Nigeria, which wasn't on the list of ineligible countries – though Nigeria can afford to launch satellites and is mulling a manned space flight.
Foreign aid to India last year totaled some £280 million ($456 million), even though India has a space program and even launched a mission to land a rocket on Mars.
A spokesman for the Commonwealth Development Corporation told the Daily Mail that it had been "legally and contractually bound" to hand out aid donations, the total amount of which is maintained at 0.7 percent of the UK's gross national Income.