UKIP's Farage invited to election debate, snubbed Green Party considers legal action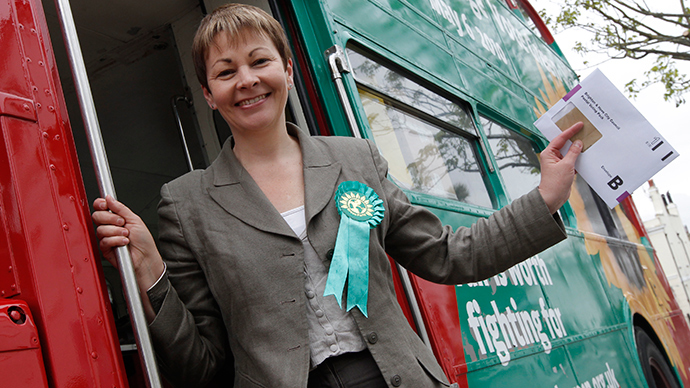 The Green Party has indicated it may take legal action against Britain's main broadcasters, following their decision to invite UKIP leader Nigel Farage to join a televised general election debate in 2015. The Green Party was excluded from such proposals.
Following Farage's invitation, Green Party MP Caroline Lucas publicly announced her decision to seek "legal advice" over the party's exclusion from the televised general election debates.
Venting her outrage on Twitter, Lucas suggested the broadcasters had decided it was "messy to have too many candidates". But the MP argued, "democracy is messy – sort it out."
Taking legal advice over Green exclusion from TV debates. Apparently "messy" to have too many candidates. Democracy IS messy - sort it out!

— Caroline Lucas (@CarolineLucas) October 13, 2014
Green Party leader Natalie Bennett denounced the broadcasters' proposed televised debate format as utterly "out of touch" with Britain's "public mood", arguing they were clinging to a regressive model of politics rooted firmly in the past.
"It is clear from votes and polls that the public are fed up with the three business-as-usual parties and are looking around for alternatives," she said.
Prime Minister David Cameron questioned the inclusion of UKIP in the general election TV debates, suggesting the Greens should also have come under consideration.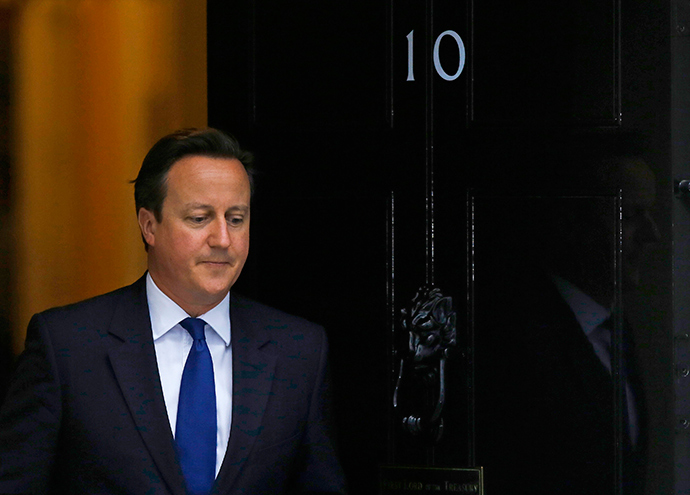 "If you have one person, then the Greens have an MP as well, so you have to think these things through," Cameron told the BBC.
"It's an interesting proposal. None of us had seen it beforehand. I'm sure we'll study it and I'm sure there will be other proposals along before long," he added.
Even Cameron has said if #Farage is invited, the Greens should be! Leaders React To Plan For Election Debate http://t.co/xaaURv73eW

— Sam Butler (@SamButler2805) October 13, 2014
Should the broadcasters' plans come to fruition, Sky News and Channel 4 will co-produce a debate between Miliband and Cameron hosted by British journalist, broadcaster and author Jeremy Paxman.
The BBC will broadcast a debate between Cameron, Miliband and Clegg with UK presenter David Dimbleby as chair. All three main political party leaders will then join Farage in a third debate broadcast by ITV and hosted by newsreader and journalist Julie Etchingham.
Following the news, Farage said "the decision is better than it could have been" because it recognizes the "increasing popularity of UKIP". But he added the party should be allowed to take part in a second debate if Britain's "political landscape" continues to shift.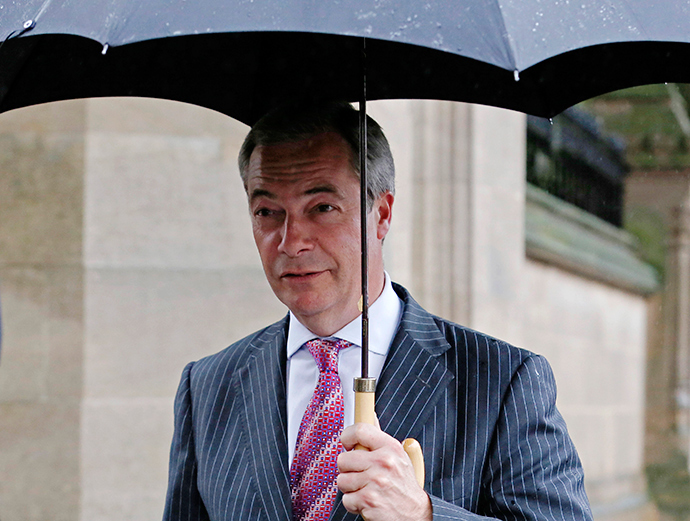 In light of the recent success of Conservative defector Douglas Carswell in last week's Clacton by-election, UKIP now boasts its first MP. The Eurosceptic party has out-polled Nick Clegg's Liberal Democrats for months.
Commenting on UKIP's prospects in the 2015 general election, Farage expressed confidence the party would do well. "It is not only our right to seek election into the House of Commons in May, it has also become our duty to succeed," he said on Sunday.
A spokesman for the Conservative Party said the Tories had noted the request and would "respond accordingly."
But, in a formal statement, the Liberal Democrats said they would not accept the prospect of being officially excluded from one of the televised debates. The party proposed a similar format to that which occurred in the lead up to the 2010 general election – the first-ever live debates to be held in a UK election.
Following the broadcasters' decision, supporters of the SNP and the Green Party demanded their inclusion in any televised debates. Critics suggested that, as currently proposed, the debates would be characterized by an absence of left-of-center perspectives.
RT @patrickwintour: If Greens allowed to join TV election debate it would also prevent a men only platform < & ensure some genuine debate!

— Caroline Lucas (@CarolineLucas) October 13, 2014
Jenny Jones, a member of the London Assembly and a Green Party member of the House of Lords, said the party's leader Natalie Bennet should feature in the national debates "if only to have at least one woman on the platform".
Meanwhile, Scottish National Party deputy leader Nicola Sturgeon said on Twitter it was unacceptable the SNP had been excluded from the proposed format.