'Lost decade': UK workers face real wages drop until 2017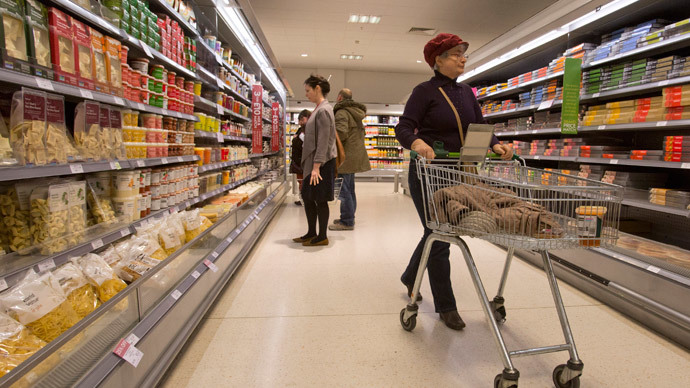 Young people and the "squeezed middle" classes will face a fall in real wages beyond 2017, amounting to a "lost decade" despite signs of economic recovery, claims an economic forecaster.
Real take-home pay, representing workers' spending power, will still lag behind pre-crisis levels by 2017, falling short of the 4.5 percent to 5 percent annual rises seen before the 2008 financial crisis.
The EY Item Club survey claims median pay in real terms will fall from £18,852 in 2008 to £17,827 by 2017.
The non-governmental forecaster believes the record numbers of people in work, which currently stands at 30.6 million by official figures, will act as a brake on wages in an employers' market.
The knock-on effect will see a fall in consumer spending over the next two years. Consumer businesses face a "challenging" environment as workers have less money to spend by historic standards.
Spending on food, alcohol and tobacco will be particularly weak over the next two years compared with pre-crisis levels, the report claims.
@D_Blanchflower Some important charts to mull over during Osborne's speech. The worst Chancellor ever? pic.twitter.com/JbnKb8EqNQ

— Luke Thomas (@welshboy82) September 29, 2014
"Total household incomes have strengthened because more people are in work, but individuals do not have extra money in their pockets," Martin Beck, the EY Item Club's senior economic adviser, said in the report.
"Real wages are being held back by strong growth in the supply of workers and the fact that firms are facing increased non-wage costs, such as new pension schemes," he added.
Beck argues the "squeezed middle" will see their disposable income undermined as pay fails to keep pace with the rate of inflation and competition for jobs remains fierce.
Capital Economics estimated in April this year that since the start of the financial crisis, real pay has fallen by 10 percent, the biggest fall in any five-year period since the 1920s.
With a disproportionally high rate of unemployment, and rocketing house prices fleeing the grasp of first-time buyers, young people in their 20s and 30s will especially feel the pinch of wage stagnation.
In a separate report, also published on Monday, David Blanchflower, professor of economics at Dartmouth College, claimed there is no evidence of meaningful growth in real wages taking hold soon.
The E&Y report is just another report that proves that @D_Blanchflower analysis on poor wage growth was always correct!

— Szymon Wierny (@SimonWierny) September 29, 2014
"The absence of any improvement in the UK's productivity performance – together with evidence that nominal wage growth is flat-lining and real wage growth is falling – make it highly unlikely that wage growth is about to explode upwards," Blanchflower said in the report.
"There is no compelling evidence to suggest such a rosy scenario; it seems far more likely that nominal wage growth will once again disappoint on the downside."
Blanchflower said the rise of self-employment, now making up 15 percent of the UK workforce, has contributed to the stagnation, as the group typically earn less than waged and salaried workers.
He also points out that the rate of job creation is slowing and that the majority of the new jobs created are part-time and insecure.
Blanchflower's report, co-authored with Stephen Machin, professor of economics at University College London, also identifies falling trade union membership and collective bargaining power as contributing factors.
According to the Trade Union Membership 2013 Statistical Bulletin, published by the Department for Business Innovation and Skills, the proportion of employees who were union members fell from 29.8 percent in 2000 to 25.6 percent in 2013.
The proportion of employees who were union members fell in the private sector from 18.8 percent in 2000 to 14.4 percent in 2013, while in the public sector they fell from 60.3 percent to 55.4 percent.
"Trade unions generate a significant wage premium," the economists said. "So the continuing decline in union density is likely to have a downward effect on sustainable wage growth in the future. A similar story applies in the public sector, where we have seen pay freezes."
The UK government will face a wave of national public sector strikes in October by civil servants, council workers and NHS workers. The industrial action over low pay rates comes as MPs are voting themselves a 9 percent pay rise.
The Labour Party pledged at their annual conference to raise the minimum wage to at least £8 per hour by 2020 if they win next May's general election. Critics point out that the UK's minimum wage is likely to rise to £8.10 with inflation by 2020 anyway, regardless of policy.
Meanwhile, the National Shop Stewards Network (NSSN) and the Green Party have called for a £10 per hour living wage, to tackle what they see as a cost of living crisis.
You can share this story on social media: