UK unemployment down, but wages fall behind inflation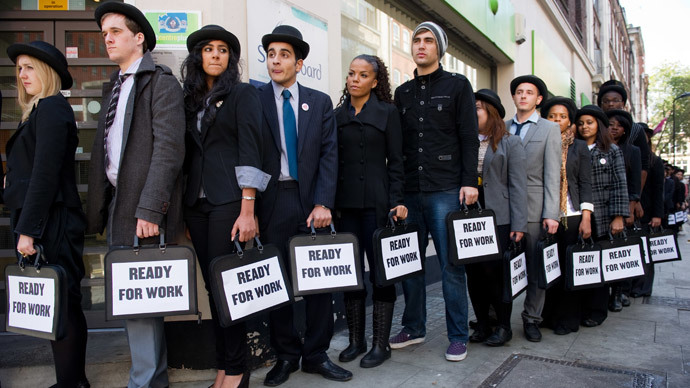 A steady growth in the UK jobs market has not yet translated into a lower cost of living, while wages are failing to keep pace with prices, new figures indicate.
The consumer price index (CPI) measure of inflation is expected to show a rise to 1.6 percent in June from 1.5 percent in May, according to a poll of Reuters economists, signaling a rise in prices.
While this is well below the Bank of England's 2 percent target for annual price rises, it still far outstrips the latest average wage growth, leaving workers worse off in real terms, unable to cover the rising cost of essentials.
The latest data on the labor market, to be officially published later this week, is forecast to show wages have risen a mere 0.5 percent from March to May on a year earlier, the Guardian reports. This is a slower pace than the 0.7 percent growth over February to April.
Meanwhile, unemployment is forecast to stand at 6.5 percent for the three months to May after its 6.6 percent in the three months to April. That would be the lowest jobless rate since November 2008.
However, the Trades Union Congress (TUC) says unemployment in every region of the UK is still higher than before the financial crisis. It also says unemployment is higher across all age groups with young people bearing the brunt. The number of unemployed 16- to 24-year-olds has reached 167,000, much higher than six years ago.
"In some parts of the UK, unemployment is 50 per cent higher than it was before the recession," said TUC General Secretary Frances O'Grady. "The talk in the City and around Westminster may be about a fast growing economy but the recovery still feels a good way off for millions of people still desperate for work across the rest of the country."
"The government should be doing more to get unemployment down in every part of the UK. High levels of youth joblessness are particularly concerning. The growing talk of an interest rise is a worrying distraction from this far bigger economic and social problem."
There are renewed warnings of another financial slump as growth slowed in the second quarter of the year from a strong start to 2014. Financial markets have nonetheless priced in a rise in interest rates by the end of the year.