Banking on Farage: Donor pledges £1m to UKIP after Tory snub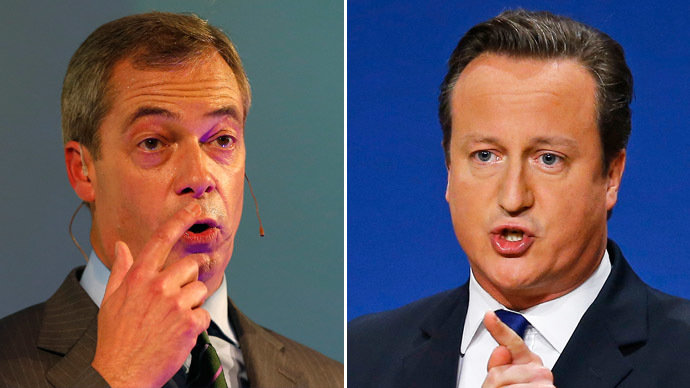 Former Tory donor Arron Banks has upped his UKIP pledge of £100,000 tenfold. In retaliation to a prominent Conservative MP's claim that he was a "nobody," the millionaire mogul donated 1 million pounds to Nigel Farage's party on Wednesday.
The businessman's inflated offer surfaced as the Tory's final party conference before the 2015 general election came to a close. The Conservatives' fresh embarrassment followed the defection of Tory MPs Mark Reckless and Douglas Carswell to UKIP in recent weeks.
Banks, a UK insurance mogul who reportedly channeled 250,000 pounds into Conservative Party coffers over the past nine years, upped his UKIP pledge following incendiary comments made by House of Commons Leader William Hague.
Speaking at the Conservative Party conference in Birmingham on Wednesday, Hague claimed he had never heard of Banks, and insisted the millionaire's defection would "certainly not" overshadow Cameron's party conference speech.
But speaking to the Telegraph, Banks called Hague's comments arrogant, and confirmed he increased his UKIP donation as a direct response to the slight.
"The original donation of 100,000 pounds was intended to help the party," he said.
"I think it just shows the arrogance of people. All I was doing was kicking back at it. He called me a nobody, and now he knows who I am."
The former Tory donor told the Telegraph he had "slowly fallen out of love with the Conservative Party," adding that Farage's Euroskeptics are more attuned to his political views.
"I'm a businessman and I believe that the Conservative Party is run by an elite," he said.
"We are going to do our level best to get anyone we know to come out of the undergrowth – and there's quite a few of them. I think the wholesale trashing of people with Euroskeptic views is not going down too well."
Farage expressed delight at Banks' sizeable donation, emphasizing it meant "a lot" to UKIP.
This donation "helps hugely" with four upcoming by-elections, he told the Guardian, adding it would also help to build a bigger pre-electoral campaign team in advance of May 2015.
The UKIP chief insisted there was absolutely "no staged theater" in Banks' upped donation, but rather Hague's slight had driven the insurance entrepreneur to a "degree of rage."
Banks' donation marks the highest cash donation UKIP has ever received from a single individual. In pledging a mammoth million quid to Farage's party, the insurance broker has joined a select group of only four individuals to have gifted such hefty payments to a political party since 2010.
Among these donors is Conservative patron and business man Michael Hintze, who gave Cameron's party a sizeable 1.5 million pounds in May 2014.
At present there are no caps on donations issued by private individuals to UK political parties.
RT asked an official spokesman for the Electoral Commission on Thursday whether the body thought Banks' million-pound donation was appropriate. The spokesman said the move was entirely legal, and insisted donors are free to donate 100 million pounds if they so wish.
Probed on whether reform was required in this context, the spokesperson declined to comment, emphasizing it was "a matter for Parliament to decide." He added while such reform was discussed in Parliament in 2011, no regulatory changes came to fruition.