'Speaking for majority': Boris Johnson's ex-deputy defects from Tories for UKIP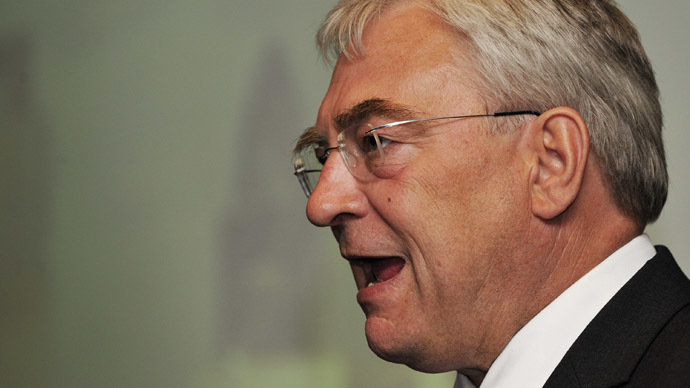 Fresh embarrassment has struck the Conservative Party as former Deputy Mayor of London Richard Barnes defected to UKIP, the latest to follow renegade MPs Douglas Carswell and Mark Reckless into the Nigel Farage camp.
In yet another blow to Prime Minister David Cameron's Tories, currently holding their annual party conference in Birmingham, Barnes claimed "it is UKIP that is speaking for the majority."
"There seems to be a detachment from ordinary people's lives in the Westminster village. The parties just don't seem to relate and talk the language of normal people."
Hoping to allay concerns among activists, party sources had claimed it was unlikely any more high-profile defections would occur in the near future.
Deputy to London Mayor Boris Johnson between 2008 and 2012, and Tory leader in the London Assembly, the defection of Barnes flies in the face of his former boss.
Johnson has said any Tories thinking of defecting to UKIP must be "utterly nuts" and urged the "great Conservative family" to unite. He mocked the "quitters, splitters and kippers" who had thrown in their lot with UKIP.
With innuendo stemming from a story about British vacuum cleaners being deemed "too powerful" by the EU, Johnson insinuated that defectors to UKIP are the type of people who arrive at hospital "with barely credible injuries sustained through vacuum cleaner abuse."
Barnes claims he quit mainly because of his opposition to the high speed (HS2) rail link project between London, the North and the Midlands.
Speaking to the Evening Standard, Barnes described HS2 as a "white elephant that will have virtually no impact on the vast majority of train users."
He also attacked the political disconnect between citizens and the main Westminster parties on issues that matter most to "ordinary" voters.
"UKIP talks to, listens to and speaks for the ordinary men and women of this country in a way that the other parties just cannot grasp," said Barnes.
"On issues such as education, taxation, immigration and of course the European Union it is UKIP that is speaking for the majority.
"I am delighted to join a party that says what it does and does what it says."
Richard Barnes, former Tory Deputy Mayor of London, joins UKIP: http://t.co/3QWIYEOU23. I hope BoJo enjoys his Tory Conference speech.

— Roger Helmer (@RogerHelmerMEP) September 30, 2014
Barnes also called Cameron's plans to renegotiate the UK's relationship with Europe "unrealistic." The Conservatives have pledged to hold an in/out of the EU referendum in 2017 if they are returned to power in 2015.
"Do we really believe they can create a new settlement by 2017, with the agreement of all the member states?" said Barnes. "It's just unrealistic. There has to be more clarity and it's not there at the moment.
"Our borders are massively porous. Immigration is a good idea, but it has to bring a benefit to our economic, social and cultural life. It cannot be to take advantage of the NHS or to exploit the benefits system. At the moment it's a mess. We don't count people in, or count them out. That would be a good place to start."
Chairman of the London Assembly inquiry into the 7/7 London bombings, Barnes lost his Ealing and Hillingdon seat to the Labour Party in 2012.
UKIP leader Farage is thrilled to have poached yet another prominent Conservative to his ranks.
"It is great to have Richard along, both as a man of great political experience, but also for his depth of knowledge of counter terrorism," he said in a statement.
Diane James MEP, the UKIP Home Affairs spokesman, joined Farage in celebrating the defection.
"I am delighted to welcome Richard, who brings a wealth of experience into the party on counter terrorism and community cohesion. As UKIP grows it is apparent that it is becoming the home to more and more people of depth, experience and authority," she said.
Great to have Richard Barnes join UKIP, both as a man of great political experience but also for his depth of knowledge of counter terrorism

— Nigel Farage (@Nigel_Farage) September 30, 2014
Barnes, who is gay, dismissed claims that UKIP is a homophobic party, despite a series of scandals that suggest such a tendency in its ranks. A UKIP councilor claimed in January that the UK's winter floods were God's punishment for the legalization of gay marriage.
"I'll stand my ground against any prat," said Barnes, when questioned by the Evening Standard. "They are in all the parties. I don't think they become homophobic the moment they join UKIP."
In a damaging scandal in September of last year, naked photos of a man's lower body in front of a mirror appeared on Barnes's Facebook page. He blamed the incident at the time on having been "hacked."
"I'm a 65-year-old gay man on his own," he said at the time. "It's not the sort of thing I do. Do you really think I would be that f****** stupid after 30 years in politics?" he said.
Cameron has warned a vote for UKIP risks splitting the center-right vote, allowing the Labour Party's Ed Miliband to win next May's general election.
The prime minister also insists the Conservative Party is the only party that can deliver an in/out referendum on Europe – something UKIP has long campaigned for.