#OpSafeWinter: UK Anonymous battle austerity with homeless campaign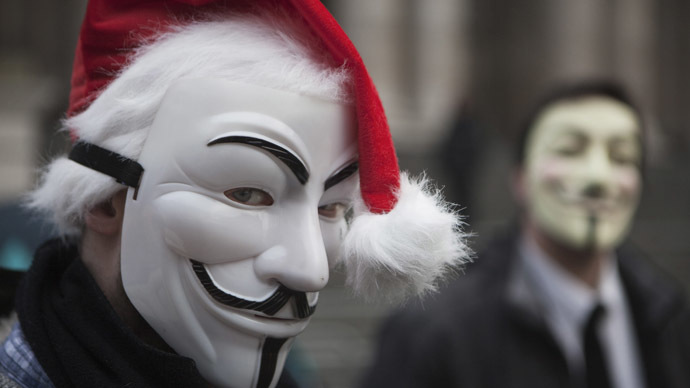 UK-based members of Anonymous launched Operation Safe Winter in Britain on Friday. The project is aimed at providing the homeless with life's essentials, while raising awareness of the punishing effects of austerity and the UK's housing crisis.
Launched to coincide with World Homeless Day, the initiative is a global outreach program. In an international effort to battle against homelessness, Anonymous branches around the world will work alongside social justice campaigns.
Officially founded in November of last year, the program evolved organically out of an array of charitable projects. In 2013, OpSafeWinter provided homeless support in 12 different countries. It was particularly active in Britain, America, and Brazil.
Britain's East Coast Homeless Outreach (ECHO) project, currently up for a special award from the Lloyds Bank Foundation, originated from Anonymous UK's efforts to support homeless Britons in 2013.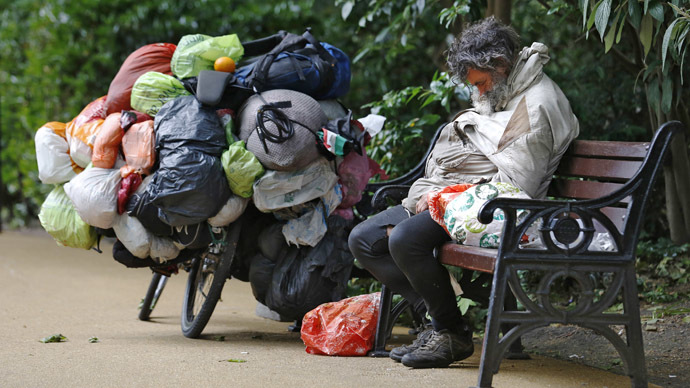 Anonymous UK formally announced the launch of their 2014 #OpSafeWinter initiative in a statement published on Pastebin. The group said it wished to address the lack of compassion and care that has become commonplace in "this age of consumerism."
"No longer shall we stand by and watch isolation and fear be spread by the establishment, which is killing and destroying community and lives. We all have a voice, so make yours heard, you are the power, your choice, your life, you are the motivation for justice," Anonymous UK said.
In parallel to OpSafeWinter, a petition has been published on Avaaz.org in support of the campaign. The petition seeks to highlight the harsh effects of austerity on UK citizens and its links with rising homelessness.
It urges the International Court of Human Rights and Royal Courts of Justice to prosecute Prime Minister David Cameron and Secretary of State for Work and Pensions Iain Duncan Smith for alleged "crimes against humanity."
The petition echoes concerns previously raised by Human Rights group Amnesty International and disability campaign Black Triangle. Amnesty International recently passed a resolution denouncing an assault on sick and disabled Britons' human rights, while Black Triangle argues 10,600 ill and disabled UK citizens passed away within six weeks of their sickness benefit being stopped in 2012.
No act of kindness, no matter how small is ever wasted #OpSafeWinterhttps://t.co/oVW5KOPU7tpic.twitter.com/E9deOGsTml

— PPI (@ppinternational) October 3, 2014
SHOUTOUT > @Cardiffhomeless action are hosting a free music event 11th of october at cathays community centre 3pm-11pm #OpSafeWinter

— OPSafeWinter (@OPSafeWinter) October 10, 2014
A spokesperson for Anonymous UK, who goes by the name of JediKnight, told Shout Out he is planning a special event, #OpFeedTheHomeless, in London on November 5 as part of the wider OpSafeWinter program. The hacktivist said he has organized teams to collect donations for the homeless.
"We want all people going to London to bring a drink and a sandwich to donate," he added.
In an official video, published online to mark the beginning of this year's OpSafeWinter, Anonymous posed the question "where is humanity?"
"For too long we have walked by those who have struggled to hold on to life. For too long we have ambled by blindly while people continue to suffer. We close our eyes to people's suffering and hardship and think nothing of the man lying on cold stone as if our hearts were made of the same cold stone beneath him," the video's narrator said.
"Our uncaring, so-called elected officials do nothing but change laws for the worse and create hardship on those most vulnerable," the narrator added.
Anonymous said governments across the globe "have created and perpetuated a game where anyone can become homeless."
"We can no longer sit silent while so many needlessly suffer so the top 1 percent can continue to exploit the human need for shelter, as a means to enrich themselves. This is not an elite world. We are but tenants on this planets for a short time," the hackivist collective concluded.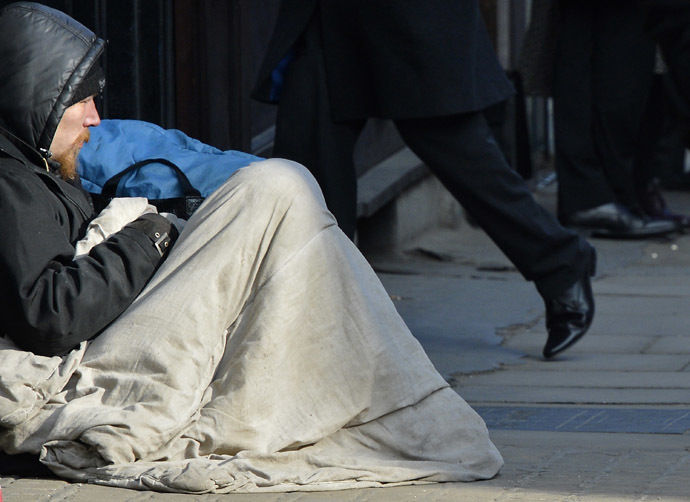 Last year Anonymous UK worked with The Big Issue magazine, The Basement advisory group and an array of smaller social justice groups to help ease the plight of homeless Britons.
"When we started OpSafeWinter it was really just a few people chatting in [internet relay chat] and within a couple of weeks it had gone global," a spokesman for the group told RT on Friday.
"The response from local businesses, Mosques, and the general public was amazing last year and we are hoping for even more this year. But big companies were less willing to help which was disappointing," the spokesman said.
"This year we are working on amapwhich with the help from Anons, citizens and local businesses around the world will show locations of food banks, shelters, soup kitchens, centers and advice centers globally. This is a big undertaking but worth doing."
Anonymous UK is a subset of an international network of activists and hacktivists assembled to resist global inequality, counter government attacks on citizens' privacy rights, mitigate child pornography, and "cyber assault" corporate and state institutions.
Poverty and Homelessness are Human and Civil Rights Issues https://t.co/tnsxSCQxBG

— OPSafeWinter (@OPSafeWinter) October 10, 2014
I'm not a hacker, nor have I claimed to be. I'm a man with a mask that wants to help this cold world. #OpSafeWinter

— #OpSafeWinter (@vixrax) October 5, 2014
You can share this story on social media: