​Slip of the tongue: Cameron claims to 'resent' poor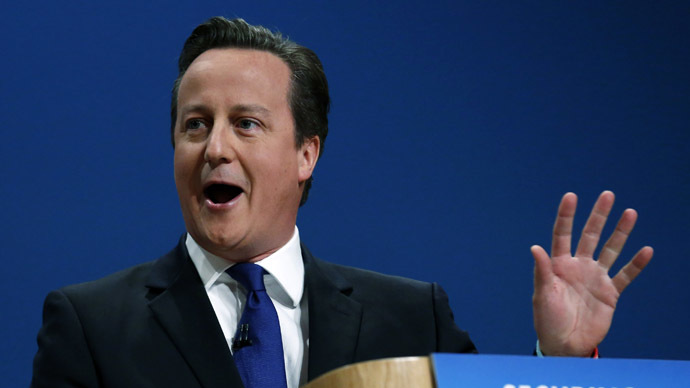 UK Prime Minister David Cameron told delegates at the Conservative Party's annual conference in Birmingham that he "resents the poor" in an unfortunate Freudian slip during Wednesday's keynote speech.
Cameron was supposed to tell his audience that the Conservative Party 'represents' the poor. However, due to an unfortunate misread of his autocue, he accidently said "resents".
Speaking to delegates, he said the Conservative Party was there "for the teenagers who want to make something of their lives," adding, "This is who we resent."
The gaffe immediately made rounds on social media, with many using the Twitter hashtag #freudianslip, after the psychiatrist Sigmund Freud.
I think David Cameron just said that the Tories resent single parents. I think he meant represent. Oops. #FreudianSlip

— Fiona Jones (@fionaljones) October 1, 2014
i'm sure cameron has had to train himself out of accidentally saying he "resents" poor people #freudianslip

— zoe samudzi (@BabyWasu) October 2, 2014
The misfortune may come back to haunt the Prime Minister in the run up to next year's general election. The speech was designed to draw attention away from high profile Tory defections to the United Kingdom Independence Party (UKIP), as well as news that a former Tory donor had funneled 1 million pounds (US$1.6 million) to UKIP.
Cameron's speech also included a pledge for more tax cuts and a real-terms cut in benefits for working welfare claimants.
The resentment howler was not the only quirk of Cameron's speech, however. Many on social media mocked the PM for his poor imitation of a northern accent, typical in the English county of Yorkshire, in an attempt to parody the former Foreign Secretary William Hague.
Patronising. Tch. David Cameron's cod Northern accent is an insult. https://t.co/XEa3mBqP9C via @vineapp

— Duncan Enright (@duncanenright) October 1, 2014
A video parody of the Prime Ministers' speech cut to the music of rap star Eminem, created by the YouTube artist Casetteboy, has also gone viral on social media.