Cameron says Brussels 'too big & too interfering' in wake of EU elections
Published time: 28 May, 2014 12:46
Edited time: 25 Jan, 2018 12:32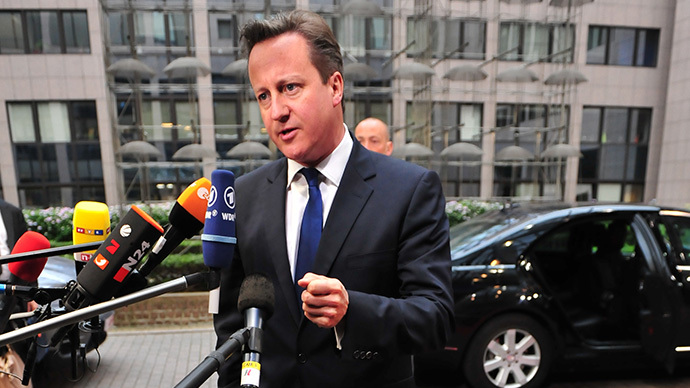 Surfing a wave of Euroskepticism following the EU elections, UK Prime Minister David Cameron has called Brussels too big and bossy. The 28-nation bloc voted a record number of EU Parliament seats to anti-integration parties.
Prime Minister Cameron is in Brussels for an informal meeting to discuss the results of last week's EU elections. Addressing the press in the Belgium capital, Cameron criticized the EU, saying it had got too big for its boots.

"We need an approach that recognizes that Brussels has become too big, too bossy, too interfering. It should be 'nation states' wherever possible, Europe only where necessary, and we need people running this organization who really understand that," he told reporters.
The results of the recent EU elections showed a marked swing towards euro skepticism in the 28-nation bloc, as around 30 percent of the seats went to parties with anti-integration policies.

In Britain, the UK Independence Party triumphed in the elections, receiving 27.5 percent of the vote. Cameron previously described UKIP as "a bunch of loonies and closet racists." But now he says such results could not be simply "shrugged off" and this was a sign something needed to be changed in the leadership of the EU.

Elsewhere, the most notable was arguably France's National Front Party headed by Marine Le Pen, which has been criticized for racist and xenophobic views. The National Front garnered 25 percent of the vote with Le Pen describing her party's victory as a prelude to a political "earthquake" in the European Union.

European leaders must now address the issue of who will replace European Commission President Jose Manuel Barroso when he steps down from the post in October. Cameron is strongly opposed to the current favorite, former prime minister of Luxembourg, Jean-Claude Juncker, who is backed by German Chancellor Angela Merkel.

Juncker announced on Sunday that he had the only legitimate right to the presidency given that his party, The European People's Party, has the majority of seats in the parliament, with 212 out of 751.

Leader of UKIP Nigel Farage has claimed that there is "nobody more fanatical about building the United States of Europe" than Juncker and his candidacy has come "just at the moment that the European electors have made it clear they are going in the wrong direction."

Anti-EU sentiment has been on the rise in the UK following the financial crisis that has crippled parts of the Union. Cameron has promised to push for a renegotiation of the conditions of Britain's membership to the Union and limit Brussels's powers.

Last year, the UK Prime Minister promised he would hold a referendum to decide Britain's future in the EU, should his Conservative Party get the majority of the vote in next year's general election. Cameron said on Monday that he would not bring the referendum forward, after his party came third in the EU elections, beaten by Labour and Ukip.