​YouTube-rated: UK music videos to be age-classified to protect children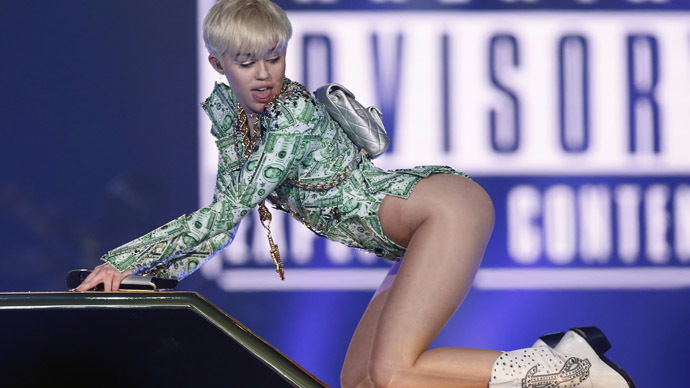 Movie-style classification ratings are to be slapped on to music videos in the UK, in a new pilot scheme designed to protect children from viewing raunchy, inappropriate and violent content.
Three of the UK's biggest music labels – Warner, Universal and Sony – will work with internet video services YouTube and Vevo to design the pilot scheme, which will see videos from artists like Miley Cyrus, Katy Perry and Rihanna age classified.
The firms will submit controversial music videos to the British Board of Film Classification (BBFC), who will issue the videos age-rating labels of 12, 15 or 18.
"Parents are eager to have more input over the types of content their children access, particularly online," assistant director of BBFC David Austin told the Independent.
"By applying understood and trusted BBFC age ratings to online music videos, this pilot is a vital step in meeting this demand for choice and child protection."
The move following statements from Prime Minister David Cameron, who earlier this year said that rules for online videos should be brought in line with those in place for the TV, film and music industries.
"Helping families with children and parenting shouldn't stop at childbirth. To take just one example – bringing up children in an internet age, you are endlessly worried about what they are going to find online," Cameron said in August.
"From October, we're going to help parents protect their children from some of the graphic content in online music videos by working with the British Board of Film Classification, Vevo and YouTube to pilot the age rating of these videos."
The pilot follows growing public concern over what young people are able to view online, particularly 'pornographic' music videos, on supposedly 'safe' websites like YouTube.
Last year's summer smash hit 'Blurred Lines' received heavy criticism, not only for its allegedly 'sexist' lyrics, but also for its accompanying music video, in which three models are shown dancing naked.
Other music videos to have been criticized for their graphic content include Nicki Miniaj's 'Anaconda'.
However, under the pilot scheme, only British music videos will be tagged with an age certification, meaning that raunchier videos – usually from the US – will unlikely carry such labels for the foreseeable future.
The pilot scheme is due to begin on Friday, October 3.
You can share this story on social media: