​£25bn cuts: Osborne lays out new austerity plan, working-age benefits 'freeze'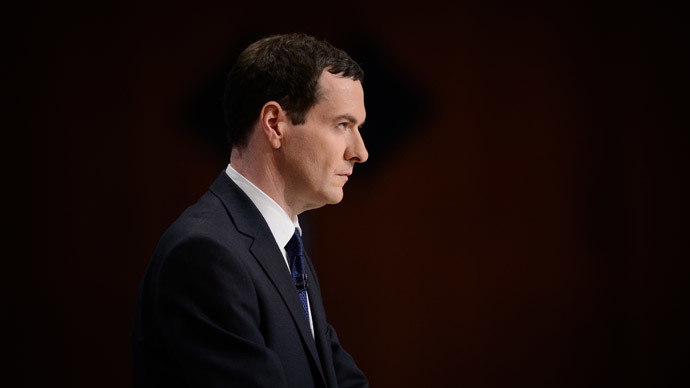 British Chancellor George Osborne has announced a huge new package of cuts totaling £25 billion, including one of the biggest squeezes on benefits in recent times, which will come into force if the Tories win next year's election.
Speaking at the Conservative Party conference in Birmingham on Monday, Osborne said in a televised speech that the package was needed to reduce Britain's "dangerously high" national debt, and that his plan to freeze working-age benefit payments for two years would save around £3 billion.
"Even with the reforming decisions that [Work and Pensions Secretary] Iain Duncan Smith and I have taken, benefits have risen more than earnings since Labour's great recession," he said.
Osborne's "freeze" plan would actually be a cut in real terms, because payments would not rise in line with yearly inflation.
The Chancellor argued that the British people could no longer afford to live in a country which spent £100 billion a year on welfare payments for people of working age.
The benefit cuts will not include pensions, disability benefits and maternity pay, however. The savings will total £3 billion.
While the chancellor did not spell out where all the £25 billion in spending cuts would come from, he signalled that tax cuts would come under a possible Conservative government after the general election next year.

Too many young people had fallen into a "culture of welfare dependency and a life on the dole", he said.
Osborne also announced plans to cut government spending in Whitehall to save £13 billion, and to significantly reduce the amount individuals pay if they inherit a pension.
Following Osborne's speech, Labour said the plans were only benefitting "the very wealthiest few".
Many on social media also criticised the policy, saying that it would make the poorest in British society even worse off than they were before.
Osborne's speech comes as the government is gearing up for its election campaign, following a disastrous weekend in which a second Tory MP in two months defected to UKIP, while Tory minister Brooks Newmark was forced to resign after sending explicit photographs of himself to a reporter pretending to be a female Conservative activist.
Osborne said that Britain's budget deficit was one of his key priorities, accusing Labour opposition leader Ed Miliband of failing to address the issue.
Details of the tax and benefit cuts will be outlined in the Autumn Statement, which Osborne is due to deliver in October, after Parliament reopens.