UK MPs likely to back US-led coalition airstrikes against ISIS, but only in Iraq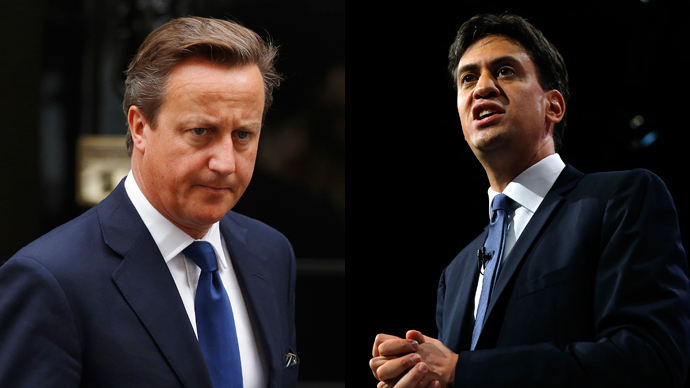 Parliament will be recalled on Friday to discuss Britain's role in air strikes against ISIS. While MPs will likely reject joining US-Arab strikes on Syria on legal grounds, support is growing for strikes on Iraq.
READ ALSO:2 more airstrikes on ISIS targets in Syria, 3 in Iraq – Pentagon
UK Prime Minister David Cameron has lobbied for Britain to join the US-led airstrikes against Islamic State (IS, formerly ISIS/ISIL) militants in Iraq as he addressed the United Nations General Assembly in New York.
"It is right that Britain should now move to a new phase of action," Cameron told the assembly. "I am therefore recalling the British Parliament on Friday to secure approval for the United Kingdom to take part in international air strikes against ISIL (Islamic State) in Iraq."
The British Parliament will be recalled on Friday to endorse RAF strikes in Iraq after the leader of the opposition, Ed Miliband, assured the prime minister that his party will support UK military involvement in the country.
"The Speaker has agreed to the prime minister's request to recall parliament this Friday to debate the UK's response to the request from the Iraqi government for air strikes to support operations against Islamic State [Isis] in Iraq," Downing Street said in a statement.
Ahead of the parliamentary debate, however, the prime minister will face Thursday night protests outside Downing Street, where anti-war campaigners are expected to demand that MPs vote down any British military involvement.
Cameron told NBC News earlier on Tuesday that the fight against Islamic State was one "you cannot opt out of".
"These people want to kill us. They've got us in their sights and we have to put together this coalition ... to make sure that we ultimately destroy this evil organisation."
The leader of the Labour Party, Ed Miliband, said he was "open to the possibility" of supporting air strikes against ISIS in Iraq.
"How will I judge any proposal? Whether Britain can have an effect, whether we can succeed and whether it is legitimate and lawful. But I am open to the possibility," said Miliband, whose annual party conference is currently underway.
"Before I commit British combat troops I want to look at what the proposition is and the nature of that proposition," he told BBC Breakfast on Wednesday morning.
Miliband suggested that airstrikes against IS in Syria would be likely to require a UN Security Council resolution to win his party's backing.
Because of these concerns, MPs will be asked to approve UK involvement in military action in Iraq, but not in Syria.
Nevertheless, this sets a marked contrast with Cameron's failed bid at winning support from opposition MPs for strikes against Syria in August 2013 in response to evidence chemical weapons had been used.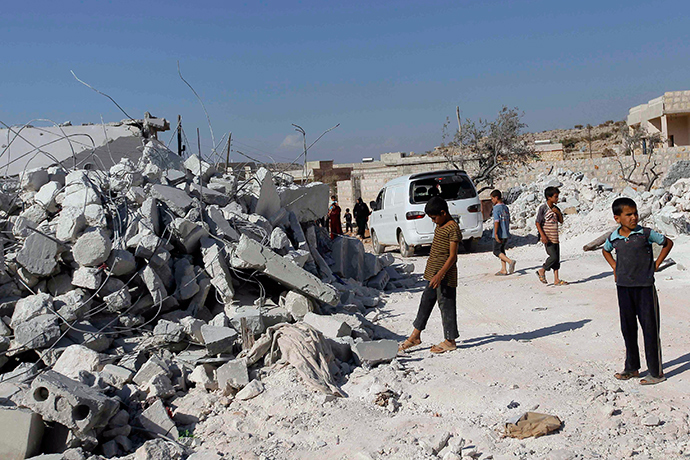 Strikes against Syria began early Tuesday, when a coalition of the US and five countries from the Gulf and Middle East used fighter jets, bombers and Tomahawk cruise missiles against ISIS targets in Syria.
Monitors claim 120 jihadists were killed in the strikes. At least eight victims are believed to be civilians, three of them children, the Syrian Observatory for Human Rights watchdog told Reuters.
The US military has confirmed five fresh airstrikes on Islamic State militants on Wednesday – two of them in Syrian territory, while three others hit Iraq.
The latest strikes on Tuesday and Wednesday destroyed two Islamic State armed vehicles, eight other vehicles, a weapons cache and fighting positions, said a US military statement. So far, 20 airstrikes have been launched across Syria, according to Central Command.
The International Committee of the Red Cross has appealed to all parties to respect the Geneva conventions on warfare.
"What is extremely important for us is that whatever country takes part in the hostilities has to comply with the basic rules and principles of international humanitarian law," Robert Mardini, head of ICRC operations for the Near and Middle East, told Reuters.
Syria's UN envoy was informed by Washington hours before the attacks began at about 00:30 GMT. The permission of the Assad government, however, was not sought, raising questions over the legality of the intervention.
Damascus issued a statement following the first strikes vowing it would continue fighting extremist factions in Syria. While the government did not explicitly say it supports strikes on its territory, it said Damascus would not stop coordination "with countries that were harmed by the group, first and foremost Iraq."
"The Syrian Arab Republic says it stands with any international effort to fight terrorism, no matter what a group is called — whether Daesh or Nusra Front or something else," the statement reads.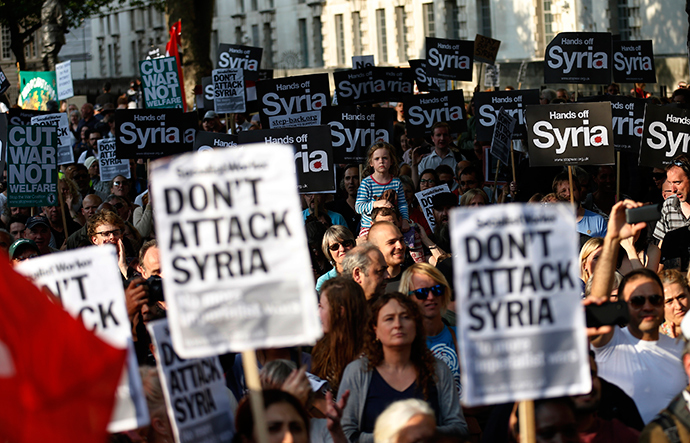 The Stop the War coalition, which organized mass protests in opposition to the Iraq war in 2003, has called an 'emergency demonstration' outside Downing Street on Thursday night. Activists argue that any further western military intervention will only inflame the situation.
Amidst rumours of recall of Parliament to ratify air strikes, let me make it clear, I will not vote for air strikes.

— John McDonnell (@johnmcdonnellMP) September 23, 2014
"All the experience of the terrible wars in Afghanistan, Iraq and Libya has shown that western military action only serves to kill innocents, destroy infrastructure and inflame violence," Stop the War coalition organizers said.
Hope MP's think before Parliamentary vote: Bombing will make the Isis problem worse | @guardianlettershttp://t.co/KxvbGgp46a via @guardian

— Jeremy Corbyn MP (@jeremycorbyn) September 24, 2014
"ISIS is a reactionary force, but it is in part a product of the disastrous occupation of Iraq by Western powers," they added. "ISIS is funded by some of our main allies in the region, including Saudi Arabia. Escalating Western military intervention will do nothing to stop them but will create more suffering and further destabilise the region."