Cameron backs US-Arab airstrikes on Syrian ISIS, vows to contribute more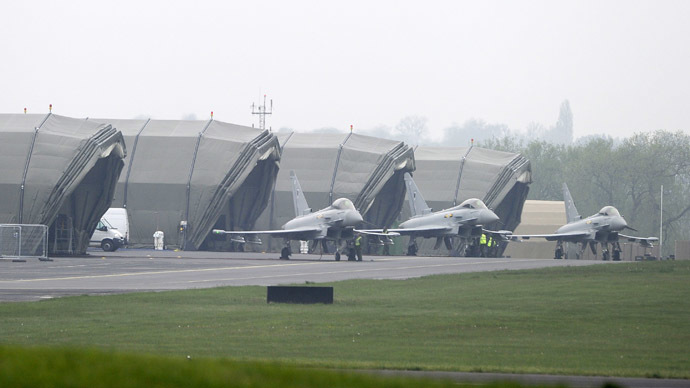 Britain remains undecided as to whether it will join US and Arab coalition airstrikes against Islamic State (IS, formerly ISIS) targets within Syria. Meanwhile, consensus is growing among UK MPs in support of Iraq strikes.
America, along with Bahrain, Saudi Arabia, Jordan and the United Arab Emirates, used fighter jets, bombers and Tomahawk cruise missiles in Syrian raids that began early on Tuesday.
Monitors claim 120 jihadists were killed in the strikes. At least eight victims are believed to be civilians, three of them children, the Syrian Observatory for Human Rights told Reuters.
Syria's United Nations envoy was informed by Washington hours before the attacks began at about 00:30 GMT. The permission of the Assad government, however, was not sought, raising questions over the legality of the intervention.
Syrian state TV reports President Assad supports any international effort against "terror" and that an Iraqi envoy is now briefing him on next steps to combat terrorism, according to Reuters.
Asked about the UK's stance on joining Syrian strikes, a UK Ministry of Defence spokeswoman said, "Our position in Iraq and Syria is the same. Discussions are ongoing. No decision has been taken to our involvement."
Downing Street says Prime Minister David Cameron supports the strikes, and wishes to determine "what more the UK can do to contribute" as he enters talks at the UN General Assembly in New York.
Cameron has said he wants to consult the House of Commons before committing British forces to Iraq or Syria. Parliament could be recalled as early as Thursday, following his return from the assembly.
He hopes to secure UN approval for a global strategy to deal with the militant group. He also plans to meet the president of Iran to urge him to join the effort.
In a major embarrassment for Cameron, a government motion for a Syrian intervention last year was defeated by Labour opposition MPs. Cameron will need the support of his opponents in order to act.
Shadow Business Secretary Chuka Umunna told Sky News on Tuesday it was "inconceivable" that Cameron could commit to airstrikes without the approval of MPs.
"ISIS need to be eliminated. What they are doing in the region is evil, is terrible. Obviously the prime minister hasn't determined yet that the UK should get involved," said Umunna.
"If that is something he does, the Labour Party will apply the same criteria to whether or not we choose to support the intervention as we applied to the proposed Syrian action last year - is there a legal basis to intervene, is there a plan for intervention, and, importantly as well, learning the lessons from Iraq, is there a plan for what happens after?
"It is inconceivable that the prime minister could press on with airstrikes frankly without consulting Parliament and seeking proper consultation with Parliament."
Former Foreign Secretary Jack Straw told BBC Radio 4 on Tuesday he was not against the principle of British involvement in military action, but said operations in Syria required "some kind of consent" from the Syrian government.
The Russian Foreign Ministry issued a statement as news broke of Syrian strikes, which said that any action against Islamic State militants in the country without the agreement of the Syrian government would fuel tensions in the region.
"Any such action can be carried out only in accordance with international law," read the statement. "That implies not a formal, one-sided 'notification' of airstrikes but the presence of explicit consent from the government of Syria or the approval of a corresponding UN Security Council decision."
Attempts to violate the sovereignty of countries in the Middle East to achieve Washington's own geopolitical goals "only exacerbates tensions and further destabilizes the situation," the ministry added.
The UK government has hardened its rhetoric on the IS in recent weeks, since the release of three gruesome videos showing the beheadings of US journalists James Foley and Steven Sotloff, and British aid worker David Haines.
The IS has threatened to execute a fourth hostage, British aid worker Alan Hennings, and released a propaganda video allegedly showing captive British journalist John Cantlie. Among Tuesday's targets is the IS stronghold of Raqqa, where Henning is reportedly held.
The UK government has already delivered weaponry to Kurdish fighters resisting the Islamic State. It has also sent humanitarian aid to minority groups targeted by IS militants, and dispatched Typhoon jets on surveillance missions in the region. If the government can secure the backing of MPs, airstrikes on Iraq could begin soon after.
Based on the questionable legality of intervention in Syria, Cameron may struggle to win approval from MPs to commit British airpower to raids on Syria unless Damascus give its consent. He will hold talks with Labour leader Ed Miliband this week to discuss a possible motion.