'Humiliating' STD tests in classrooms: Parents attack Sussex pilot scheme to test students during lessons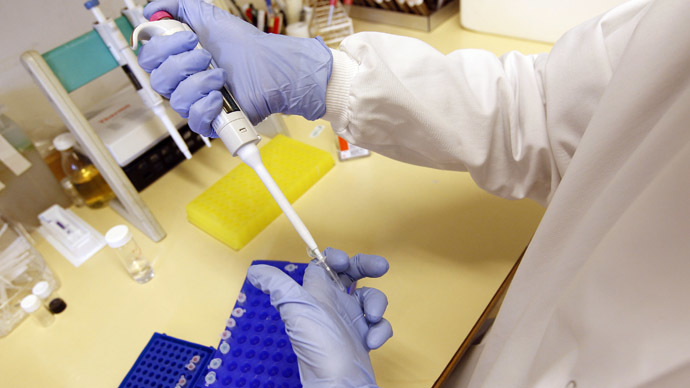 British schools should consider offering students STD tests during lessons as a blanket national policy, public health experts claim. A recent scheme to offer students such tests in Sussex has roused sharp criticism from parents, however.
Schemes that offer pupils tests for sexually transmitted diseases during school hours should be expanded throughout the nation if they reduce infection rates, UK charity the Royal Society for Public Health suggests.
At present, approximately one in 12 tests for the sexually transmitted infection chlamydia are conducted in colleges, universities and schools, rather than in a conventional medical setting. But the Royal Society for Public Health argues that sexual health screenings in school environments should be administered more widely throughout the nation.
A pilot scheme to do precisely this has recently been launched. As part of this initiative - commissioned by Brighton and Hove council and delivered by the NHS -nine schools throughout Sussex are currently offering students special swabs in the classroom so they can conduct STD tests in school bathrooms.
Reflecting on the scheme, senior school teachers told the Telegraph the initiative was designed to demonstrate to children how "easy and painless" STD tests are, in the hope they would opt for them in years to come. And the Royal Society for Public Health has welcomed the policy, suggesting such initiatives could raise awareness regarding sexual health.
But parents in Brighton and Hove have expressed deep concern about the council-supported initiative, insisting they were not informed about the policy prior to its introduction.
A mother of a child attending Blatchington Mill, one of the nine schools partaking in the initiative, said her teenage daughter refused the STD test because she "felt uncomfortable with it". In an interview with Sussex newspaper the Brighton Argus the woman denounced the scheme, arguing "the school should have let us know as parents that our children were going to be asked to do this."
"I know the tests were done by the students in the toilets, but I think it's humiliating to ask teenagers in class to do a test for an STI,"she added.
RT asked a spokesperson for Brighton and Hove Council why parents had not been informed about the STD tests prior to school authorities' decision to adopt the policy. The council spokesperson said "communication with parents about this is a matter for individual schools", stressing itswork with school authorities in this context"is entirely consistent with government guidelines."
On the question of whether the council had requested schools inform parents about this scheme prior to its introduction, the council spokesperson failed to specify. She argued, however, that the provision of "safe opportunities" for sexual health screenings in schools "normalises health screening generally" and identifies and reduces incidences of Chlamydia amongst a "small number of sexually active under 16 year olds" in Britain.
Commenting on the pilot scheme, chief executive of the Royal Society for Public Health, Shirley Cramer, told the Telegraph she would like to see an increase in the number of schools offering students STD tests in the classroom. She cautioned, however, parents should be informed about these schemes prior to their implementation.
"By practically demonstrating to young people what a chlamydia test entails this initiative may help to demystify and de-stigmatise the procedure - which in turn might help young people feel more comfortable learning about other aspects of sexual health," Cramer said. But she warned that such schemes should be complimented with a "well-rounded education that helps young people better understand the personal and social consequences of sexual behaviour."
Cramer added that if such initiatives are proven to "increase awareness and testing", the charity would welcome their expansion. But whether they will become more common in Britain remains to be seen. Public health officials said on Monday evening that the decision on whether to introduce these schemes to secondary schools ultimately rests with local councils.
Schools in Liverpool and London have taken a slightly different approach, testing children for chlamydia in special clinics run by school nurses. This policy came to fruition under a National Chlamydia Screening Programme set up to reduce rates of infection across Britain.
One of the most common sexually transmitted infections (STIs) in Britain, Chlamydia can cause infertility. Over 200,000 young people tested positive for it in 2012, 66 percent of whom were under the age of 25.
Jules Hillier, deputy chief executive officer at sexual health charity Brook told the Telegraph it was vital that young people have access to information about testing and treatment for STIs.
"Young people tell us they would like health services and education to link more closely so that fear and misunderstanding can be avoided," she said. "If this scheme was created in consultation with young people, and their dignity and right to confidential services were respected, it may well help to remove some of the anxiety about testing that exists."
In response to Brighton and Hove Council's decision to run the pilot scheme, the Guardian has conducted a poll asking readers on whether schools should offer sexual health screening. While the poll will remain open for another day, an overwhelming majority of readers have so far voted in favour of the measure. A total of 87 percent backed it, while a mere 13 percent voted against it.