Childhood blues: English kids among world's unhappiest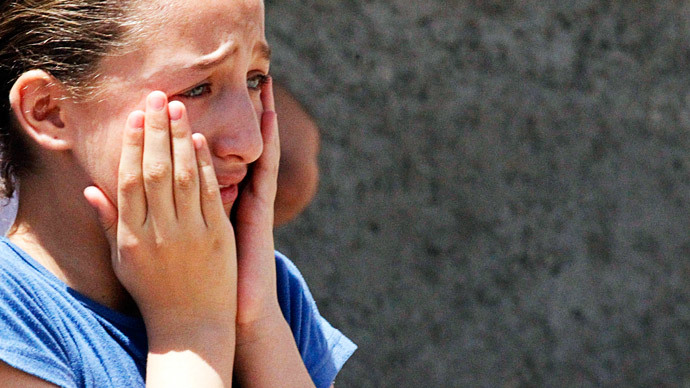 English children are unhappier than youngsters in the developing world, with kids in countries like Romania, Brazil and South Africa more inclined to look on the bright side, a new report reveals.
"This research can't be dismissed as being about 'grumpy kids,' said Matthew Reed, chief executive of The Children's Society, which conducted the study. "Children with low wellbeing are more likely to experience serious issues, such as poor outcomes related to school, family and their health."
England ranked ninth out of a sample of 11 countries around the world in the study published on Thursday, which involved 50,000 children – behind countries such as Romania, Spain, and Algeria and ahead of only South Korea and Uganda. The report found that children from Romania, Spain and Israel were most content.
Reed said while childhood was a happy time for the "vast majority" across the UK, the fact so many were unhappy and dissatisfied with their lives could not be ignored.
"This new report lifts the lid on the fact that we're lagging behind so many other countries, including developing nations," he said.
The researchers found that the more than 5,000 children that have been surveyed tended to be relatively happy with several aspects of their lives – like money and possessions – but anxious about things, such as their future and their appearance.
Appearance and body image are the main concern for kids and problems with their body image make English girls among the saddest in the world. Almost one in five girls in England are unhappy with the way they look, the survey found, compared to 9 percent of boys.
"Popularity is very important, you have to be pretty, rich, skinny, clever. If not, you get bullied," one ninth-grader said in the report.
A 12-year-old girl added: "People are judged on looks. Sometimes you feel like you can't enjoy yourself unless you are pretty."
In a separate analysis, the report compared England with 39 other European countries and North America, rating it 30th in "wellbeing" – defined as self-reported happiness and satisfaction.
Despite having some of the highest living standards in the world, English youngsters are less satisfied with life than children in developing countries such as Algeria, Brazil and South Africa, the survey found.
The report also found a link between children's wellbeing and their financial situation. Around a third (36 percent) of children said their families had been affected a "fair amount" or a "great deal" by the economic crisis, and these children were more likely to have low wellbeing.
Teenage years are when English children are at their unhappiest. The survey suggested that ages 14 to 15 were the most miserable stages of adolescence, with slightly higher levels of well-being reported among 16- and 17-year-olds.
Reed said: "That is a statistic none of us can afford to ignore in a period where the impact of austerity measures are disproportionately affecting low-income families with children, it is critical to keep focused on how young people are faring."
"Children are telling us that they're unhappy about their future and how they look, as well as the things that make them happier, like being active, having strong friendships and going online," he added. "It's crucial that all of us – from policymakers to parents and teachers – listen very closely to what they have to say."
You can share this story on social media: