11 arrested as clashes erupt in Glasgow after 'No' independence vote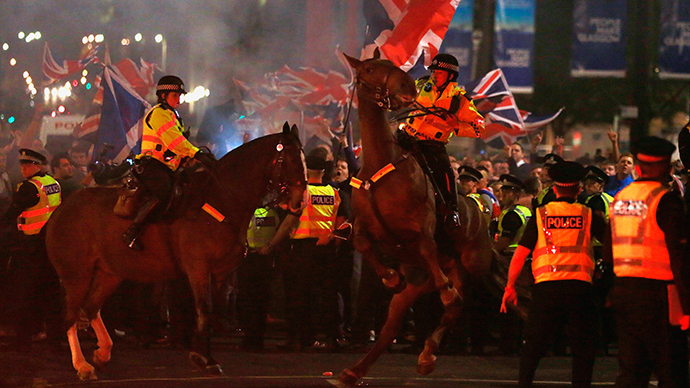 When Scotland decided to stay in the union voting 'No' with 55 percent, British unionists took to the streets of Glasgow celebrating Scotland's decision to stay in the UK. But the rally soon descended into violent clashes with at least 11 people arrested.
Chief Superintendent Andy Bates, local policing commander for Greater Glasgow, told The Scotsman: "More than 700 people gathered in George Square last night and there have been 11 arrests for various offenses including disorder, breach of the peace and vandalism."
"An investigation into Friday night's disorder has begun and an incident room has been set up at Glasgow city center police office, staffed by officers dedicated to identifying and arresting anyone involved in the ugly scenes witnessed across the world on television and social media," he said.
Scotland votes 'No' to split from UK in independence referendum
A spokesperson from Police Scotland told local media that there were about 100 people in each group. But then 'Yes' supporters started leaving the square, which became dominated by unionists. However, other sources said that there were several hundred activists from both sides.
The supporters of the 'No' campaign set off red-colored fire crackers and waved Union Jack flags, singing 'Rule Britannia', 'You Let Your Country Down' and 'Can You Hear the Yes Campaign?' they carried banners associated with the pro-Union Protestant Orange Order. They reportedly let off flares in George Square.
On the other side of the square there were campaigners for Scottish Independence.
"We will never surrender," read a pro-independence sign. The pro demonstrators were reportedly singing the Scottish anthem "Flower of Scotland."
The unionists then started clashing with pro-Independence supporters. With tensions high, police tried to keep the opposing political forces apart.
One Vine video from George Square depicts a young woman with a Scottish flag on the ground being attacked by an angry man with a Union Jack.
This George Square thing is about pure hatred of all that is not what they are #GlasgowRiots

— 4. 8. 15. 16. 23. 42 (@AngelaConway) September 19, 2014
One Twitter user posted a photo showing pro-Union activists performing Nazi salutes.
Another witness told newscom.au that during the rally police officers tried to rescue 'Yes' supporters from the UK nationalists on George Square.
Scotland's biggest city, Glasgow, supported independence with 194,779 votes for and 169,347 against.
'Proud to be British': 15,000 'No' campaigners rally for union through Edinburgh
The chaos in George Square is not Yes v No voters, it's unionists, which are a whole different issue

— The Hairy Hobbit (@bilbobaggins2k) September 19, 2014
The Orange Order, founded in 1795 to protect the interests of Protestants in Ireland, has always been opposed to the break-up of the United Kingdom, and insists it must stand by its Scottish brothers to protect the union.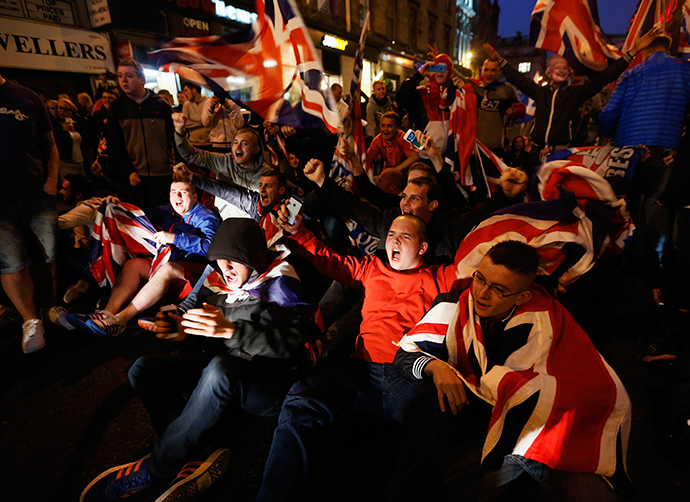 'No' campaigners believe that Scotland would be more secure and prosperous as part of the United Kingdom rather than independent. The end of this union, they say, would destroy three centuries of shared history and may potentially lead to economic catastrophe.
The agony of defeat: Public reaction Scottish referendum
On Thursday Scotland voted to stay in the UK following a long and intense campaign. The 'No' campaign rallied 55 percent of the votes against 45 percent of 'Yes' votes.
About 100 fascists triumphantly holding 'No Surrender' banner and attacking Yes supporters in George Square, Glasgow. pic.twitter.com/ngxmXRYiXv

— Jen Izaakson (@Izaakson) September 19, 2014
They're singing 'Rule Britannia' in George Square. Just to think we were singing it peacefully on Saturday pic.twitter.com/OGiAY5j6II

— The Hairy Hobbit (@bilbobaggins2k) September 19, 2014
Shortly after the votes were counted and "Better Together" won, Scotland's First Minister and leader of the Scottish National Party (SNP), Alex Salmond, said he was resigning from office after losing Thursday's independence referendum.
"We lost the referendum vote but Scotland can still carry the political initiative," he told journalists and supporters. "For me as leader my time is nearly over, but for Scotland the campaign continues and the dream shall never die."
Let's face it the face of British Nationalism is vile & ugly. I'm proud to have voted for Scotland. #the45

— Indy Mel (@meljomur) September 20, 2014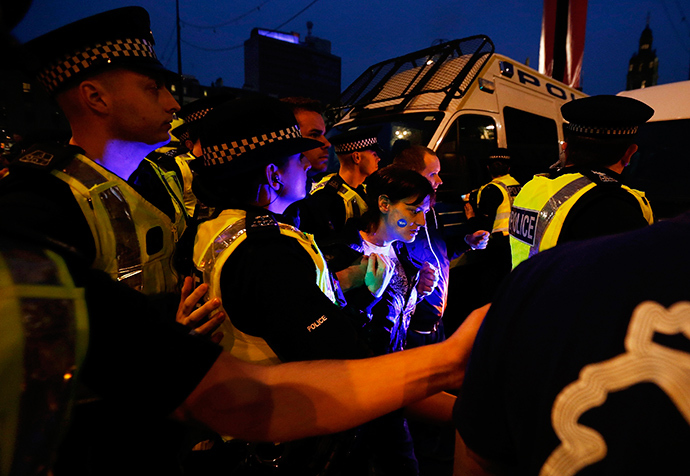 8 reasons why Scots voted 'No' to independence
Representatives from the "Better Together" group thanked Scottish voters, and hoped that the referendum's end would result in a stronger union in the future.
Please compare and contrast the following two photographs. #indyref#georgesquare#novotepic.twitter.com/oBwZsF2cvy

— Jon Brady (@jonfaec) September 19, 2014
British Prime Minister David Cameron stressed that the direct 'Yes' or 'No' vote made the centuries-old debate over a Scottish referendum settled for this generation, or probably for a lifetime.
"It's time for our United Kingdom to come together and move forwards," Cameron said. "I am a passionate believer in our United Kingdom."
You can share this story on social media: