Salmond resigns after losing Scottish independence referendum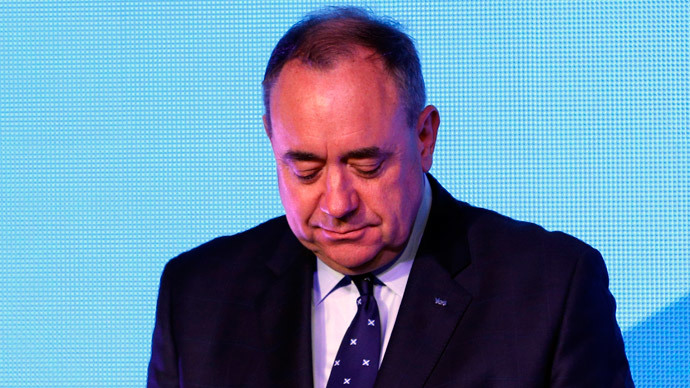 Scotland's First Minister and leader of the Scottish National Party (SNP) is resigning from office after losing Thursday's independence referendum.
Scots voted to stay in the UK following an intense campaign. The 'No' campaign rallied 55 percent of votes against 45 percent 'Yes' votes.
"We lost the referendum vote but Scotland can still carry the political initiative," he told journalists and supporters.
"For me as leader my time is nearly over but for Scotland the campaign continues and the dream shall never die."
A statement from @AlexSalmondhttp://t.co/RcCm5xNqddpic.twitter.com/vzbXkqsS3U

— Alex Salmond (@AlexSalmond) September 19, 2014
In terms of who will replace him, Salmond says there are a "number of eminently qualified and very suitable candidates for leader."
When asked what his reasons were for resigning, Salmond said "I had to make a judgement as to whether I'm best placed to take that opportunity forward - and I think others are."
Deputy First Minister and Deputy SNP leader, Nicola Sturgeon, is the overwhelming favourite to replace Salmond as party leader.
Alex Salmond has QUIT. Love him or hate him, what a sad end to a massive political career!

— Polly Boiko (@Polly_Boiko) September 19, 2014
Salmond resigns! More integrity than any other politician in the UK. He doesn't need to go.

— AssedBaig (@AssedBaig) September 19, 2014
Salmond expressed his pride in the historic 85 percent turnout in Thursday's referendum and the manner in which Scots conducted themselves.
"We now have the opportunity to hold Westminster's feet to the fire on the "vow" that they have made to devolve further meaningful power to Scotland. This places Scotland in a very strong position," he said.
It has been a privilege 2 serve under Alex Salmond. He has brought gr8 confidence2 our nation &social progress 2 Scotland in face of UK cuts

— Bob Doris (@GlasgowMSP) September 19, 2014
My statement on @alexsalmond announcement. A tribute to the finest First Minister Scotland has had. https://t.co/ioAQIBplM7

— Nicola Sturgeon (@NicolaSturgeon) September 19, 2014
The First Minister spoke to Prime Minister David Cameron on Friday. He said the PM would not commit to a second reading vote by March 27 on a devolved powers 'Scotland Bill', which had been promised by former-PM and 'No' campaigner Gordon Brown during the campaign.
"I suspect he cannot guarantee the support of his party," Salmond said, referring to the backbench Tory rebellion against new powers to Scotland.
"But today the point is this. The real guardians of progress are not the politicians at Westminster, or even at Holyrood, but the energised activism of tens of thousands of people who I predict will refuse meekly to go back into the political shadows."
Salmond: Strike our independence movement down and it will come back more powerful than you can possibly imagine.

— Rafael Behr (@rafaelbehr) September 19, 2014
Salmond right to go. Couldn't have realistically taken forward devo discussions.

— David Jones (@DavidJonesMP) September 19, 2014
Leadership nominations will open at the SNP's Annual Conference in Perth, November 13-15, said Salmond.
"After the membership ballot I will stand down as First Minister to allow the new leader to be elected by due Parliamentary process.
"Until then I will continue to serve as First Minister. After that I will continue to offer to serve as Member of the Scottish Parliament for Aberdeenshire East."
Salmond said it had been "the privilege of my life" to serve as First Minister.
Room is transfixed. Salmond's tone soft, his eyes watering. His advisers show no emotion. #indyref

— Joe Pike (@joepike) September 19, 2014
Closing his statement, he outlined the position facing supporters of independence.
"The position is this. We lost the referendum vote but can still carry the political initiative. More importantly Scotland can still emerge as the real winner."
You can share this story on social media: