'Proud to be British': 15,000 'No' campaigners rally for union through Edinburgh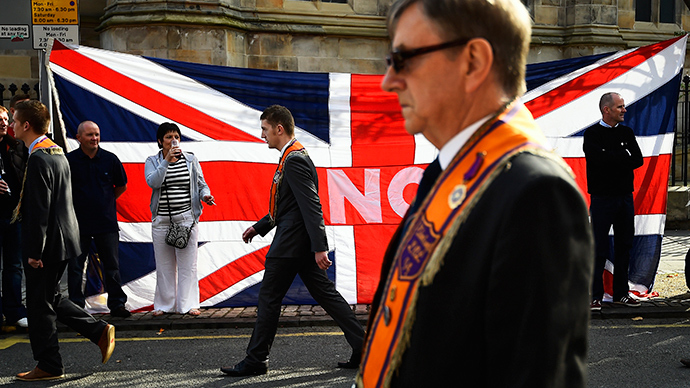 Thousands of both 'Yes' and 'No' campaigners have marched through Edinburgh as the two sides of Scotland's independence debate vie for a vote that will decide the fate of the UK on Thursday.
Police have estimated that about 15,000 participants of the protestant Orange Order union have shown their support for keeping Scotland in the United Kingdom.
With pipes, flute and drum bands, they marched through the Old City carrying Union flags, Orange Order banners and 'vote no' signs. Their banners read: "Proud to be British".
The marchers themselves were dressed up in full regalia, with white gloves, braiding and hats. Some of them were wearing Union Jack suits, covered in little printed flags. Some women were also wearing Union Jack dresses and orange nail polish while children walked around holding flags.
The "Proud to be British" rally, which started at Edinburgh's Meadows park, passed by the Scottish capital's most famous landmarks including the Parliament building and the Palace of Holyrood.
"It's your own history being taken away from you. What will you tell your grandchildren?" Jim Prentice, a gardener, who had traveled from south of Glasgow to watch the march, told Reuters.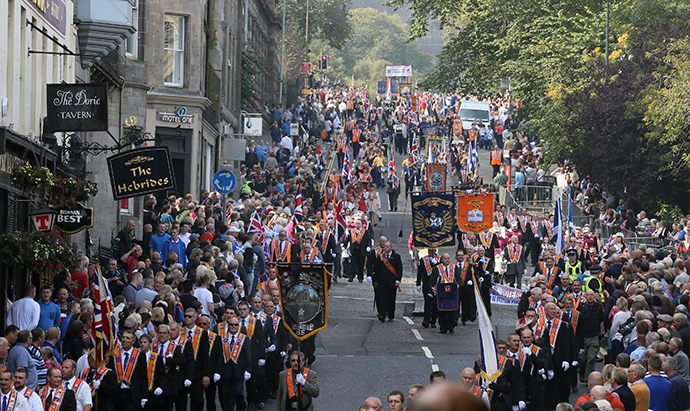 The Orange Order, founded back in 1795 to protect the interests of Protestants in Ireland, has always been opposed to the break-up of the United Kingdom, and insists it must stand by its Scottish brothers to protect the union.
"No" campaigners believe that Scotland would be more secure and prosperous as part of the United Kingdom rather than independent. The end of this union, they say, would destroy three centuries of shared history as well as potentially leading to economic catastrophe.
"Our strength in numbers here today - in one of the largest Orange gatherings in recent times held in the UK - not only demonstrates our commitment to the cause, but also our grave concern at the imminent threat to the Union we all hold so dear," said the leader of the Grand Orange Lodge of Ireland.
Up until this Saturday the "Yes" campaign has been larger and noisier in backing their pro-independence position.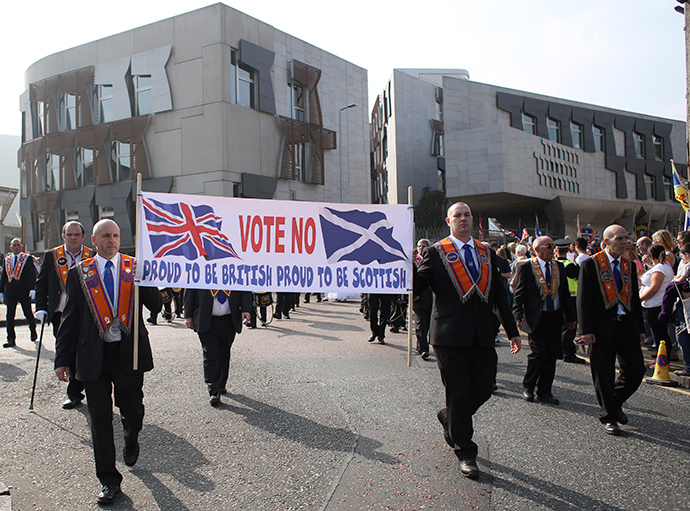 This weekend the two sides marched along each other despite the fact that the official pro-union umbrella group, Better Together, had asked the Orange Order to cancel the event due to fears that it could be seen as anti-Catholic. It has happened before that members of the Orange Order have been accused of fueling sectarianism due to the religious dispute between Catholics and Protestants.
Orange Order march underway in Edinburgh. Lots of No banners. Darling insists it's nothing to do with Better Together pic.twitter.com/fIcHerufwn

— Matt Chorley (@MattChorley) September 13, 2014
With less than one week left before the vote, a poll for Survation, on behalf of the pro-union Better Together campaign, showed that Scottish support for independence has declined. Now, 54 percent are supporting the union with the UK, while 46 percent are planning to vote for independence on September 18.
Previously, an opinion poll conducted by YouGov and The Sunday Times showed that 51 percent supported independence versus 49 percent of pro-union backers.
You can share this story on social media: