​E-Cigarettes could save thousands of lives, experts say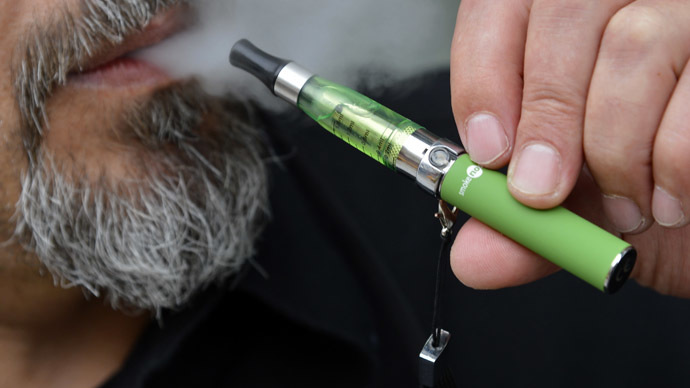 For every million smokers who switch to e-cigarettes, more than 6,000 lives a year could be saved, according to UK health experts.
A research team at University College London (UCL) called "alarmist" and "bizarre" claims raised by the World Health Organization (WHO) regarding electronic cigarettes.
Recently, the WHO said it is unknown whether e-cigarettes are as harmful as tobacco.
They also dismissed the idea that e-cigarettes are "re-normalizing" smoking, either by increasing smoking rates or slowing the decline.
The health experts said it has been calculated that for every one million smokers who switch from cigarettes to electronic ones, which deliver nicotine but do not contain tobacco, more than 6,000 premature deaths would be prevented every year. That means if all 9 million smokers in the UK took up e-cigarettes instead, 54,000 lives could be saved.
Last week the WHO called for e-cigarette use to be banned in public places and workplaces, because they could increase the levels of some toxins and nicotine in the air.
The WHO also said e-cigarettes contain toxins, the health effects are unknown and they should be banned indoors. They admitted, however, that the amounts are tiny and similar to what one breathes in when walking down a city street.
Prof Robert West from the UCL team for his part stressed that the concentration of harmful substances in e-cigarette vapor is more than twenty times lower than in tobacco smoke.
"You have to be a bit crazy to carry on smoking conventional cigarettes when there are e-cigarettes available," he said. "The vapour contains nothing like the concentrations of carcinogens and toxins as cigarette smoke. In fact, concentrations are almost all well below a twentieth of cigarettes."
The WHO report also warned about the risk of e-cigarettes acting as a gateway for non-smokers to start smoking real cigarettes.
But the UCL team said the numbers of non-smokers using e-cigarettes amounted to less than 1 percent of the population, according to the Smoking Toolkit study, a monthly survey of smokers in England.
The second UCL author, Dr Jamie Brown, said: "E-cigarettes present both an opportunity and a threat to public health – at the moment there is a sense that some prominent public health scientists are treating it purely as a threat."
Researchers at the National Addiction Centre based at King's College London and the Tobacco Dependence Unit at Queen Mary University also carried out an analysis of the WHO research, which they then published in the journal Addiction.
They concluded that some of the assumptions the WHO had made were "misleading."
Prof Ann McNeill, from the national addiction center at King's College London, said: "We were surprised by the negativity of the commissioned review, and found it misleading and not an accurate reflection of available evidence. E-cigarettes are new and we certainly don't yet have all the answers as to their long-term health impact, but what we do know is that they are much safer than cigarettes, which kill over 6 million people a year worldwide."