MEPs vote to tighten anti-tobacco laws, target young smokers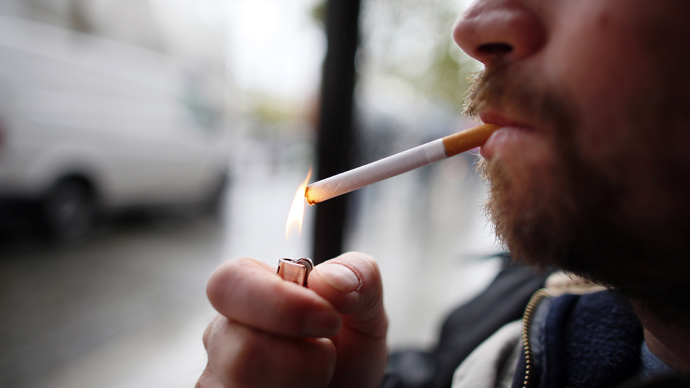 European MPs have voted to dramatically tighten tobacco laws across the union and have focused much of the legislation on trying to put young people off smoking. But the new measures do not go as far as anti-smoking campaigners had hoped for.
MPs have voted in favor of a ban on menthol cigarettes, although the law won't come into force for another five years and there will be more negotiations with EU governments before the law is adopted in member states.
Other measures to deter people, particularly the young, from smoking, include putting health warnings on 65 percent of each side of cigarette packs (though not 75%, as originally proposed). Currently health warnings must cover 30 percent of one side of a pack of cigarettes and 40 percent of the other.
There will also be ban on the words appearing on cigarette packs such as "low tar", "mild" and "light". The new laws will also apply to roll-your-own tobacco.
Chewing tobacco will also be banned, with the exception of in Sweden, where it is called snus and is relatively popular.
The proposed legislation will also allow member states to introduce plain cigarette packaging if they think the need is justified.
However, lawmakers rejected a proposal by the European Commission to force electronic cigarettes to be sold as medical products, which would have restricted sales. They also did not ban slim cigarettes – smoked by some, particularly women, with the idea that they help with weight loss and are associated with looking attractive.
Amanda Sandford from the smoking and health campaign group Action on Smoking and Health (ASH), while welcoming the laws, said she would like to have seen them go further.
"We would like to have seen MEPs vote to increase health warnings to 75%," Sandford told RT. "We'd also like to see e-cigarettes regulated under medical legislation. While e-cigarettes are considerably less hazardous than tobacco products, because they're not properly regulated at the moment, we can't be sure they're entirely safe."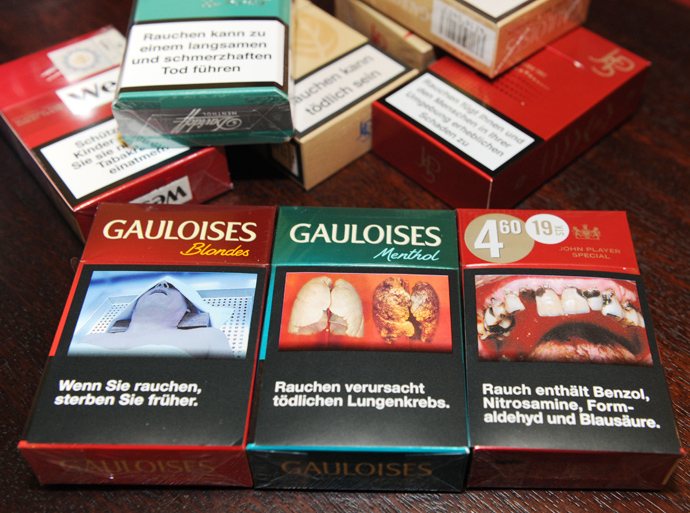 The vote was preceded by intense lobbying from the tobacco industry and health campaigners on European MPs. Nearly 700,000 Europeans die from smoking-related illnesses each year, with an estimated healthcare cost across the EU of 25.3 billion euros ($33.4 billion) annually. Meanwhile, in the UK alone the sale of tobacco products generated £9 billion ($14.6 billion) last year, amounting to 2% of all tax revenue.
There will now be further negotiations between EU health ministers, which may mean MEPs will be able to avoid a second vote and fast-track the legislation to become law before the May 2014 European elections.
E-cigarettes and kiddy packs
Britain has already said that e-cigarettes will have to be licensed as a medical product from 2016. E-cigarettes replicate the action of smoking without using tobacco and instead turn nicotine and other chemicals into vapor.
While sales of e-cigarettes have boomed since smoking was banned in public places in the EU over six years ago, campaigners say their growing popularity is dangerous.  They say they could encourage non-smokers and children to start the habit and undermine years of anti-smoking campaigns.
The European Commission also stated that cigarette packs must be big enough to make sure that the new larger warnings are fully visible. They recommended that manufactures must produce a minimum of 20 cigarettes per pack. However in the UK and Italy 10 is the minimum size.
Their recommendation will doubtless please health campaigners in the UK, who are calling for a ban on so-called 'kiddy packs' of 10 because they can be brought with pocket money.
Sandford also said that standardizing packs to 20 may encourage some people to give up smoking.
"Having a minimum pack size may help smokers who are trying to quit, particularly poorer smokers, because having to pay out for a pack of 20 cigarettes may make them think twice about the need to smoke," she said.
An estimated 4 percent of children in England between the ages of 11 and 15 years old are believed to be smoking at least once a week.
But a lobby group called the Freedom Organization for the Right to Enjoy Smoking Tobacco (FOREST) argues that around 2 million people in the UK buy their cigarettes in packs of 10 because that is all they can afford, or are trying to cut down, and there is no evidence that forcing people to buy a pack of 20 will reduce smoking. The FOREST campaign is funded by the tobacco industry.
You can share this story on social media: