EU to ban menthol cigarettes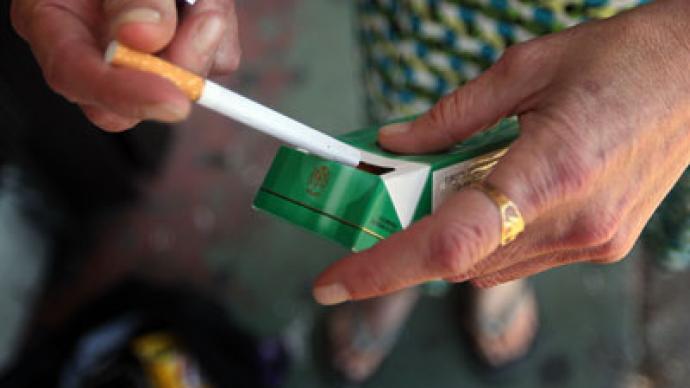 Flavoured cigarettes, including menthol, strawberry, or vanilla, are set to be banned in the European Union. The EU health commissioner also wants to make pictorial warnings occupy 75 per cent of the pack.
The draft legislation on measures to curb smoking were unveiled on Wednesday. However, they still need to be approved by EU governments and the European parliament, which could take up to three years. The legislation would ban cigarettes with "characterizing flavour", such as menthol, strawberry, or vanilla, and will also make pictorial health warnings mandatory – and bigger, covering at least 75 per cent of the pack. Finally, the draft also includes plans to ban 'slim' cigarettes and the sale of packs containing less than 20 cigarettes. "We're not prohibiting smoking; we're making it less attractive for everyone," said Tonio Borg of the health commission. "Sometimes you need shocking pictures to shock people into stopping smoking."Glenis Wilmott, Labour leader in the European parliament, told the Guardian: "Cigarette packets should look like they contain a dangerous drug, rather than perfume or lipstick."She also proposed additional measures to curb smoking in the EU, "We need to get rid of all branding from cigarette packets, as it is the only space that the tobacco industry has left to market their products."The initiative follows the resignation of the previous EU health commissioner John Dalli, who was accused of sleaze by Swedish tobacco lobbyists. He allegedly agreed to help lift an EU ban on a Swedish smoke-free substance called Snus. Dalli denied any wrongdoing, and went to court over the matter.Cigarette sales in the European Union have fallen drastically over the last years. However, the proportion of smokers still stands at 33 per cent of the adult population, higher than any other region, according to the World Health Organization.700,000 people die in the EU every year from smoking-related diseases, and the cost to treat them amounts to €25 billion per year, according to the European commission's data."Tobacco is still the leading cause of preventable death across the UK, Europe and the world. One in two long-term smokers is killed by tobacco, and the smoking rate amongst young women is on the rise," Glenis Wilmott pointed out.
You can share this story on social media: