Former UK NATO ambassador to vote 'Yes' for Scottish independence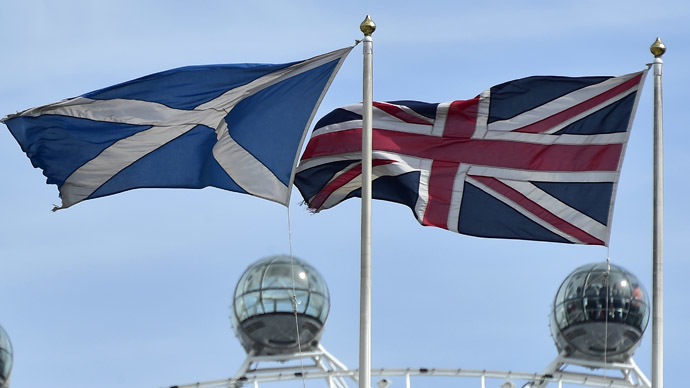 The recently retired UK ambassador to NATO has revealed she is voting yes to Scottish independence and insisted that NATO would welcome the new independent Scottish state.
"I shall be voting yes on September 18," Dame Mariot Leslie wrote in a letter to The Scotsman. Leslie was born in Edinburgh and retired as the UK's permanent representative to NATO earlier this year.
Leslie says Scotland's geography, economy, demography and politics are "so distinctive" that they are best served by their own sovereign government.
She argued an independent Scotland would be welcomed into the nuclear-based defense alliance NATO even if Scotland ended the Trident nuclear program.
"A democratic, non-nuclear Scotland with strong military and technological traditions would fit naturally alongside similar NATO members in Northern Europe," she wrote.
Explaining her decision to vote in favor of Scottish independence, Dame Mariot describes herself as a "democrat." She added, "Of course, the closest and most important defense and security relationship for an independent Scotland would be with the United Kingdom."
Dame Mariot wrote in response to criticism of SNP (Scottish National party) defense plans by General Sir Richard Shirreff, who described them as "dangerous."
Shirreff, the former NATO deputy supreme allied commander in Europe, called the SNP's independence proposal "amateurish, unrealistic and lacking any clear strategic purpose." He also said Scotland's future in NATO was "uncertain" if it left the UK and expelled nuclear weapons from Her Majesty's Naval Base Clyde.
Mariot said she draws "a different conclusion" from Sir Richard.
"I am sure that it would be in Scotland's interest to join NATO and to continue to anchor our own defense in a wider alliance of Western democracies. But I am also in no doubt that the other 28 NATO allies would see it in their interests to welcome an independent Scotland into NATO."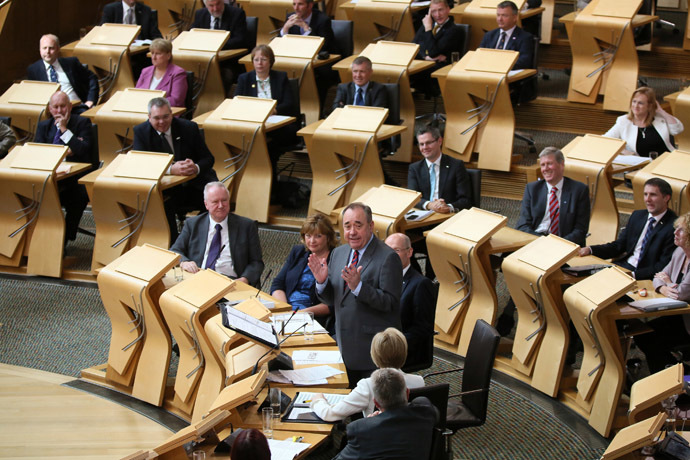 In her letter, she concludes that if Scotland makes the transition to independence, there would be "some tough negotiations over defense, nuclear and wider security questions, because there is a lot at stake on both sides."
On Tuesday, a poll by YouGov showed that support for Scottish independence is at its highest ever level. The anti-independence camp's lead had shrunk to 6 percentage points from 22 one month ago. It showed support for keeping the union at 53 percent against 47 percent seeking independence, excluding those not intending to vote or who remain undecided.
"A 'Yes' victory is now a real possibility," YouGov President Peter Kellner said. "A close finish looks likely. When I first saw our data, I wanted to make sure the movement was real. Can we be sure the rise in support for independence is real? I am certain it is," he added
It was the first time YouGov has shown support for "Yes" above 40 percent and support for "No" below 50 percent.
However, the second most senior person in Britain's finance ministry said on Tuesday that an independent Scotland could not rejoin the European Union if it used the pound informally. "This shows yet again the nationalists failure to put forward a credible currency plan and the dangers it poses to the people of Scotland," Danny Alexander said.
Scots vote on whether to end their 307-year union with England on September 18.
A vote to breakaway would be followed by negotiations with London on what to do about currency, the national debt, North Sea oil and the future of Britain's nuclear submarine base in Scotland. Independence could possibly take effect on March 24, 2016.
On Monday, however, the government appeared confident, saying it was not drawing up contingency plans for a vote in favor of Scottish independence.
"No such work (is being) undertaken," Prime Minister David Cameron's official spokesman told reporters. "The government's entire focus is on making the case for the UK staying together."
You can share this story on social media: